A new one gigawatt electricity substation has been installed in Dublin, Ireland in a bid to help the city keep pace with the growth in the number of data centers.
Located close to Dublin's 'digital business hub' at Castlebagot, Hitachi ABB Power Grids claims that it fast-tracked the installation, cutting the standard two-and-a-half year install time down to 18 months, due to anticipated growth in demand fueled entirely by data center development.
Dublin' up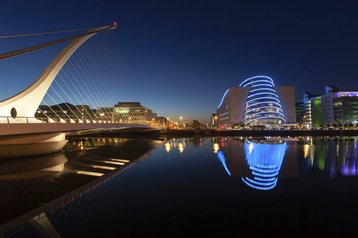 Ireland's state-owned Electricity Supply Board (ESB) commissioned the project, which involves a 220 kilovolt substation with gas-insulated switchgear. The installation includes a protection-and-control SCADA (supervisory control and data acquisition) system supporting power management and equipment status monitoring.
According to Hitachi ABB, the gas-insulated switchgear has helped to minimize the substation's footprint, saving as much as 70 percent of the space compared to air-insulated switchgear. While gas-insulated switchgear have a significantly greater upfront cost, savings can be made through the 30-year life span in terms of installation costs and maintenance. There is also a much lower likelihood of arc flashes, improving safety.
Back in 2017, the fast growth of Dublin's data center industry was highlighted by the ESB as a "principal risk" to the organization, with demand expected to more than double in a short space of time, based on filed data center planning applications.
Indeed, Dublin has become one of Europe's primary data center hubs, partly as a result of the choice of US multinationals to site their European Union headquarters in Ireland. Over the past year, data center growth has also been fueled by the rise in working from home, supported by tools such as Slack, Microsoft Teams, Zoom, and other remote collaboration tools.
Over the longer term, the perennial popularity of social media is also fueling the development of major data center campuses. Back in August 2020, when social media giant TikTok was coming under pressure from the US government to detach its US business from China, it announced plans to build a €420 million data center in Ireland to support the company's growth.
Hitachi ABB Power Grids was formed in December 2018 via the acquisition by Hitachi of ABB's power grid business in a deal valued at around $6.4 billion. The purchase was part of Hitachi's shift from nuclear power plants to the wider market for electricity networks.
In addition to installing substations to support the rapid growth of the data center industry across the world, increased competition in the power market has seen links and inter-connectors installed connecting disparate markets, most recently between Germany and Norway with the NordLink project.