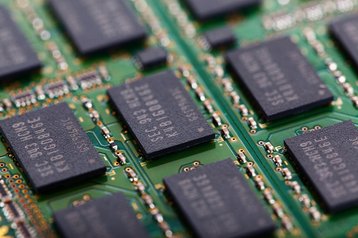 "The investment will come over the next seven years and create at least 2,000 new jobs," Chairman Wu Chia-Chau said.
"Construction will start by the end of 2021, and the plant will be completed in 2023 with mass production is set to start in 2024."
Like the wider chip market, DRAM is in short supply as demand rockets.
"We see the DRAM market tightening further through the year," Micron CEO Sanjay Mehrotra said on an earnings call this month.
"As a result of the strong demand and limited supply, the DRAM market is currently facing a severe undersupply, which is causing DRAM prices to increase rapidly."
The situation is a stark reversal from 2019, when a DRAM oversupply led to prices cratering, with revenues for the sector falling 32.7 percent, according to Gartner.
Efforts to bring supply closer to demand coincided with a 6.7-magnitude earthquake off the coast of Taiwan, which impacted the production of both Micron and Nanya.
Then came the pandemic, which changed consumer habits - reducing demand for new smartphones, but drastically increasing it for servers and home PCs. Now, smartphone demand is expected to bounce back, further constraining markets.
The global semiconductor shortage has led to the world's fabs pledging billions in new investment, including a $100bn TSMC build out, and a $106bn SK Hynix fab complex.