The US government has banned American companies from exporting technology to Chinese DRAM maker Fujian Jinhua Integrated Circuit Company. The ban echoes a similar one issued against Chinese telecoms manufacturer ZTE, although it only lasted a few weeks.
The Department of Commerce said that the dynamic random access memory supplier Jinhua "poses a significant risk of becoming involved in activities that are contrary to the national security interests of the United States."
What's mine is yours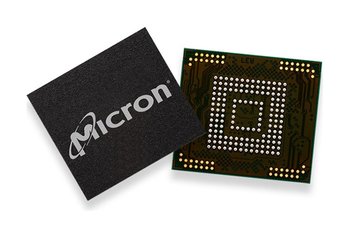 The department added: "Jinhua is nearing completion of substantial production capacity for dynamic random access memory (DRAM) integrated circuits. The additional production, in light of the likely US-origin technology, threatens the long term economic viability of US suppliers of these essential components of US military systems."
Earlier this year, The New York Times reported on allegations that engineers at Taiwanese company UMC helped steal technology from US company Micron Technology, which were to be used in a under-construction $5.7 billion microchip factory. Jinhua and UMC deny the claims.
In documents filed in Federal District Court for the Northern District of California last December, Micron claims it turned down an acquisition offer from state-backed Tsinghua Unigroup, as well as several Chinese partnerships. The result of these rebuffs, Micron claims, was for Jinhua to turn to UMC for help designing its technology. Instead of developing it, they allegedly stole it - with UMC hiring engineers from Micron's Taiwan operations, offering raises and bonuses, but asking them to take intellectual property with them.
Taiwanese authorities who are investigating the allegations claim that more than 900 files containing key specifications and details about Micron's advanced memory chips were pilfered.
The strange case took a further twist in January, when Jinhua and UMC filed a patent infringement suit against Micron, asking for its products to be barred and reparations to be paid. The case was heard in a Fujian Province court - the Fujian provincial government is an investor in Jinhua.
In July, the court ruled in the litigators' favor, halting the sale of 26 of its products, including NAND chips, SSDs and memory sticks. China's market regulator has separately opened a price-fixing investigation into Micron, SK Hynix and Samsung Electronics.
These spats, and the Department of Commerce ban, come as tensions rise between the world's two largest economies. Various sectors, including data centers, have been caught in a rapidly escalating trade dispute.
On top of the existing tariffs, Trump administration officials have warned that if next month's meeting between presidents Trump and Xi do not prove fruitful, tariffs could be levied on all remaining Chinese imports by early December. "I have $267 billion waiting to go if we can't make a deal," Trump told Fox News' The Ingraham Angle.