Digital Realty has filed to build a new data center in Chicago, Illinois, opposite its massive 350 E Cermak carrier hotel.
First reported by Block Club Chicago, the company has filed to build a new 565,000-square-foot (52,500 sqm), 13-story building at 321-337 E. 21st Street. The land is currently vacant.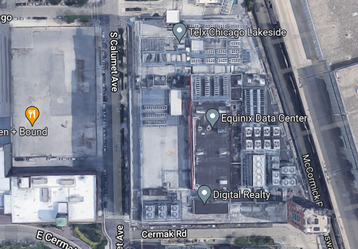 Digital Realty operates nine data centers around Chicago, including one opposite the new development at 350 E. Cermak Road (also known as Lakeside Technology Center). The company aims to build a small bridge across the street connecting the two facilities.
According to filings with the Chicago City Council, Digital Realty-affiliate Digital Lakeside 3, LLC was looking to rezone the property to DX-7 Downtown Mixed-Use District. The project will reportedly cost around $500 million. Details around timelines for development were not shared.
The eight-story 350 E Cermak carrier hotel spans 1.1 million sq ft (105,300 sqm) and offers 109MW of capacity. The facility was previously billed as 'the world's largest data center' by DCK around 2009. Originally developed by the R.R. Donnelley Co. around 1912 to house the printing presses for the Yellow Book and Sears Catalog, 350 East Cermak was converted to telecom use in 1999.
More in Construction & Site Selection