Town planners in Culpeper County in Virginia have deferred a decision around a two million sq ft (185,805 sqm) data center development.
First reported by the Culpeper Star-Exponent, the Culpeper Town Planning Commission delayed action on a zoning request for the Copper Ridge data center campus until their next regular meeting in August.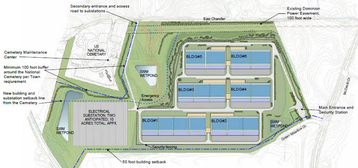 The commission held a public meeting last week around Copper Ridge Culpeper LLC's request to rezone 116 acres along East Chandler Street from Residential-2 to Industrial.
Though the request before the town features six buildings, previous site plans suggested the 116-acre Copper Ridge Data Center Campus could see up to eight two-story data center buildings developed totaling 2.36 million sq ft (219,250 sqm), as well as an on-site substation.
The original site plan suggested six of the buildings would total 250,000 sq ft (23,225 sqm), one would total 380,000 sq ft (33,300 sqm), and the largest would span 480,000 sq ft (44,600 sqm).
The revised filing suggests six buildings - with three fewer 250,000 sq ft buildings and one more 380,000 sq ft building - built over three phases and totaling around two million sq ft, as well as a substation.
Located close to Culpeper National Cemetery, the site was previously zoned for an age-restricted residential development in 2005 but approval expired in 2022. It would have seen almost 500 homes developed.
The town's analysis noted the development would increase the tax base for the town and support economic development, but conflicts with the area's comprehensive plan.
The Piedmont Environmental Council has written a letter to the council opposing the development and spoke in the town meeting. The National Parks Conversation Association also expressed "serious concerns" with the proposals.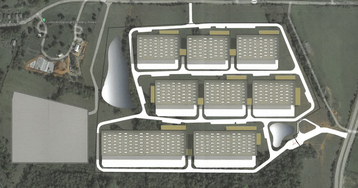 Data centers come for Culpeper
The Copper Ridge site is immediately adjacent to Peterson Companies' proposed 2.1 million sq ft data center campus. The real estate company officially announced the campus this month after the Culpeper County Board of Supervisors granted a rezoning application for the development.
Site plans on the company's website suggest up to eight buildings, though plans filed with the County suggest potentially nine with up to 2.1 million sq ft (195,100 sqm) of data center space. Peterson has said power will be available to the site by 2025 via two approved 300MW Dominion substations.
CloudHQ is potentially part of at least one of the developments, having acquired 100 acres along McDevitt Drive last year with reported plans for a 2.1 million sq ft campus.
Northern Virginia is the world's major data center market, but Culpeper County has largely eschewed the trend. There are four Equinix data centers in Culpeper County (CU1-4) that opened around 14 years ago.
AWS was last year granted permission to rezone 243 acres of land as a precursor to developing a data center campus consisting of two buildings spanning up to a combined 430,000 square feet (40,000 sq m). Northern Virginia land-use attorney John Foote, representing Amazon, previously said the county's existing technology zones lack adequate power for today's data centers.
The county Board of Supervisors approved the rezoning 4-3 in April 2022, despite the county Planning Commission previously voting to recommend denying the application. However, local residents are now suing county supervisors hoping to have the decision overturned.