A data center has been proposed in the town of Bushey, near Watford, UK, about 16 miles northwest of London.
The plans, submitted to Hertsmere Borough Council by Iceni Projects on behalf of Lindhill Properties, would see a data center built on a nine acre field at the junction of Little Bushey Lane and Aldenham Road, currently used by the Bushey Car Boot Sale (for non-UK readers, a car boot sale is similar to a "flea market" or "yard sale").
Iceni says the proximity of a substation to the east of the site and fiber optics laid close by combined make it an ideal site for a data center and an area 'primed for investment.'
"The National Grid Elstree 400kV Substation and surrounding highway network provides the unique locational requirements needed to support a new data center," says the proposal, "whilst the Bushey Car Boot Sale site is of a sufficient size to support such a data center and is perfectly located in a freestanding safe location with two adjoining highways to accommodate cabling under Little Bushey Lane to connect to the wider network."
For breaking data center news, features, and opinions, subscribe to DCD's newsletter
Hertfordshire 'primed for investment'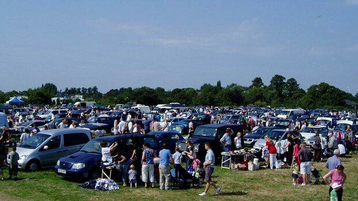 The report highlights how most of the data centers in London are currently concentrated in Slough to London's west, the Docklands in east London, or in the North Acton/Park Royal area, but there is an opportunity to bring data centers to Hertfordshire, the county directly North of London.
"The Council should be seeking to utilise the nationally significant infrastructure located in the North Bushey area of the Borough by channelling a bespoke form of high valuable infrastructure and economic development to it in order to support the wider economy," said the report. "In this regard, North Bushey provides the unique infrastructure requirements necessary to support a new data centre and there are clear exceptional circumstances to remove the Bushey Car Boot Sale site from the Green Belt for data centre use, given the spatial requirements of such infrastructure."
The plans were submitted as part of a request for potential employment sites by Hertsmere Borough Council. The proposal doesn't include specifications but says the site would be ready to be developed immediately if given the go-ahead and reports 'a number of data storage companies' as interested in occupying the site. It will be considered by the council in the coming weeks.
A data center was proposed late last year in close by Borehamwood, Hertfordshire. Panattoni and Pure DC submitted plans to Hertsmere Borough Council to build a 41,763 sqm (449,500 sq ft) facility on former Sainsbury's depot off Elstree Way. Two adjoining warehouses are already under construction, but Panattoni would demolish these as part of the redevelopment if given the go-ahead. The proposal is still awaiting approval. Sungard AS also has a facility nearby in the town.
Bushey Car Boot Sale itself is currently closed due to Covid-19 restrictions, but expects to re-open on 19 May.