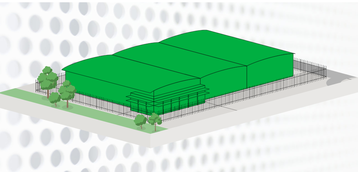 Bouygues Energies & Services, part of Bouygues Construction, will carry out design, build, electrical and mechanical services and commissioning of the data center, a turnkey project which will have 7,200 sq m (78,000 sq ft) of data center space, in a large building with an overall floor area of 19,000 sq m.
The data center will be distributed in eight self-contained halls, which can be further subdivided to give customers any amount of space down to a hall, a suite or a single rack, with dedicated power.
The "air-flooded room" design will operate efficiently, with hot aisle containment at the rack level, and cooling distributed with chilled water. Overall, it will have low energy and water needs, said Bouygues.
Bouygues will use a combined services module for the mechanical and electrical infrastructure, which can be customized as needed, offering what it describes as "best in class quality, scalability and speed to market." As the data center will be built in phases, customers can be involved in specifying what exactly they get.
"The team is excited to continue our collaboration with Virtus along with our dedicated supply chain," said Chris Mosley, operational director, Bouygues Energies & Services Contracting. "After over three years continuous presence on site, we now look forward to commencing the final piece of the Stockley Park Campus and reinforcing our presence in the data center sector."
Simon Anderson, construction director, at Virtus said: "We are pleased to be working with Bouygues Energies & Services again, this time on London8 which is the final data center of four on our Stockley Park Campus. It will be the seventh data center that Bouygues Energies & Services has been contracted to deliver for Virtus and is the result of ten years of successful delivery and collaboration between our two businesses."
Right next to the site of London8, Bouygues started building Virtus' London7 in May 2020, following the build of London6, which began in 2019.
It's all part of a plan to build five data centers in London, backed by Virtus' owner, Singapore-based telecommunications giant ST Telemedia Global Data Centres (STT GDC), which acquired the company in 2017.