Data center optimization specialist Romonet is being acquired by CBRE, the world's largest commercial real estate services and investment firm. The price of the purchase has not been disclosed.
Romonet develops cloud-based modeling and analytics software that enables customers to reduce their data center energy consumption and improve reliability.
The product will be a useful addition to CBRE's data center business, which manages more than 800 facilities worldwide.
"The data center market continues to rapidly evolve and scale, and automation is increasingly critical. Joining CBRE's leading global data centers team will allow us to provide worldwide support and capability for our clients," said Zahl Limbuwala, co-founder of Romonet.
Going corporate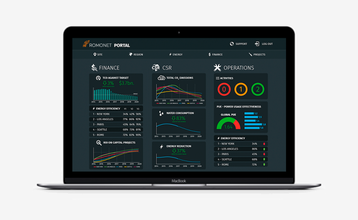 Romonet was established in the UK by Zahl Limbuwala and Liam Newcombe in 2006. Today, the company has its US headquarters in San Francisco, and its customers include engineering organizations like Arup, JCA Engineering, Skanska and Red Engineering Design, among others.
The Romonet Platform can be used to validate design changes and predict their cost, track and optimize energy consumption of servers and data center equipment, and warn about potential future issues.
The platform also measures the performance of individual facilities against a benchmark, modelled on a library of operational data that includes information on climate, energy and equipment.
Romonet claims that in 2016 and 2017, it saved customers more than £3 million ($3.92m) in energy costs, 48,000 MWh in power and 11,550 tons in CO2 emissions. The company received the Critical Environment Future Thinking Award from DCD in 2016.
Under the terms of the deal, all current Romonet employees will join CBRE, and its software will become part of CBRE's global Data Center Solutions offering.
"Romonet adds complementary market-leading solutions to our existing platform and will help us to deliver highly differentiated outcomes for our clients across the globe," said John Dunstan, president for Data Center Solutions at CBRE.
"We are not only excited about Romonet's technology, which will add to our market differentiation, but also the phenomenal talent that will join CBRE," added Sandeep Davé, CDO and CTO for CBRE's Global Workplace Solutions business.