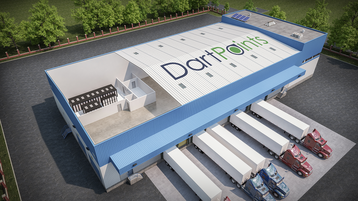 "We are excited about the combined opportunities Immedion's colocation facilities bring to DartPoints," said Scott Willis, CEO of DartPoints. "We value the enterprise customers that rely on Immedion's cloud and managed services platforms and look forward to enhancing capabilities in the future."
"The team at Immedion has built a great company, and we will continue their commitment of ensuring a customer-first approach while adding service offerings across their entire footprint. This acquisition is yet another example of how we are delivering on our strategy to improve regional interconnection, particularly to markets that need it most."
Established in 2007 and headquartered in Greenville, South Carolina, Immedion has three additional facilities in SC in Charleston, Columbia, Spartanburg, two in Cincinnati, Ohio, plus sites in Columbus, Indiana, and Asheville, North Carolina.
"I firmly believe that DartPoints' mission to enhance connectivity nationally adds value to our existing capabilities. We look forward to enabling our customers with more services and locations, while embarking on a better digital future, together," Frank Mobley, founder and CEO of Immedion.
Founded in 2012, DartPoints has data centers in North Liberty, Iowa, Dublin, Ohio, plus two Texas facilities in Dallas and Fort Worth. In 2020, Astra Capital Management Private Equity firm took a majority stake in DartPoints.
"We are excited to support this transformational acquisition. DartPoints is on a mission to provide high performance and cost-effective Edge data center solutions to solve the needs of thriving local markets throughout the United States," said Brian Kirschbaum, Partner at Astra Capital Management.
"This transaction will allow DartPoints to continue to improve interconnection options for its customers and allow for the migration of mission-critical workloads closer to end-users."