CyrusOne is partnering with the Municipality of Haarlem and business park PolanenPark to research capturing waste heat at its Amsterdam I data center.
The data center REIT is examining the economic and technical feasibility of taking residual heat from the facility's water cooling process, enhancing it and feeding it into a new district heating network to help heat 15,000 homes in the municipality. Haarlem plans to wean itself off of natural gas by 2040, meaning that it needs to find other ways to heat homes and businesses.
Warming Meerwijk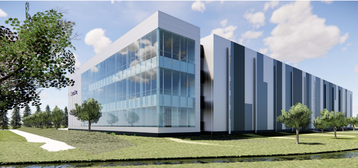 There is one problem. Like most data centers, CyrusOne's waste heat comes out at an average temperature of 30°C (86°F), which is simultaneously too low for the district heating network (which needs water at 70°C), and too hot for the facility's cooling needs. So, the three stakeholders have proposed using a heat pump to transfer heat from the returning water into the departing flow.
This uses refrigerant gas, which expands to absorb heat from one place and is compressed to release it, moving heat to from one place to another. Heat pumps use electrical energy but, because they move heat rather than creating it, they are several times more effective than using that electricity to generate heat directly.
"It is crucial that we build data centers that work in a way that is compatible with a sustainable future," said Matt Pullen, CyrusOne's EVP and MD of Europe.

Meeting demand
"The Covid-19 pandemic has amplified demand for data center capacity, as consumers become more reliant on digital tools for remote working, learning, and entertainment," Pullen said.
"The signing of this MoU is a hugely significant progression for the data center industry, and we hope this is the first of many instances in which local government bodies and land owners, such as the Municipality of Haarlem and SADC's PolanenPark, demonstrate commitment to work together with CyrusOne on similar sustainable projects." 
The move comes just months after the wider Amsterdam metropolitan area lifted a year-long moratorium on new data center builds, after raising concerns about power usage and saying that the industry needed to improve how it worked with the local community.
"The Amsterdam Metropolitan Area applies very strict sustainability conditions for the development of data centers," said Arnoud van der Wijk, project director of PolanenPark.
"PolanenPark and Schiphol Trade Park in Hoofddorp, both developments of SADC, are two of the very few locations in the region that meet these conditions. The use of residual heat is one of the important pillars of both concepts of the so-called Green Datacenter Campus. For PolanenPark, I'm proud that we're doing this together: using a pipeline to take the waste heat to the homes of Meerwijk and thereby making a great contribution to the energy transition. This project is unique for the Netherlands and far beyond."