CyrusOne has acquired an office complex in Frankfurt, Germany, and plans to turn it into a data center campus.
Property Magazine first reported that investment group Corum had sold the Europark office complex in Frankfurt for €95 million ($102.3m), before confirming that CyrusOne was the buyer.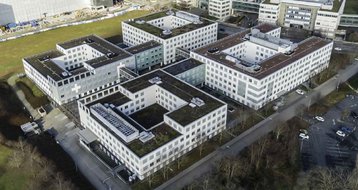 Corum originally acquired the Europark complex in 2015 for €70.5 million. Broker JLL has said the site, located at Wilhelm-Fay Strasse 31-37 in Sossenheim and currently leased to Deutsche Bank, will be turned into a data center in the future.
In a post on LinkedIn, Luke Jackson, director of International Capital Markets EMEA at JLL, said the 50,000 sqm (528,200 sq ft) office building is currently fully-let to Deutsche Bank with a two-year weighted average unexpired lease term (WAULT) but "will be repositioned to a hyperscale facility over the medium term."
"The transaction demonstrates the value premium that can be extracted from repositioning well-located legacy assets towards data center use," he said.
CyrusOne hasn't commented on the deal and it's unclear what size of facility the company is planning. DCD has reached out for more information.
Update: CyrusOne provided the following comment to DCD: "The strategically located site offers a significant opportunity for CyrusOne to deliver further innovative high-performance data center capacity to customers in one of Europe's leading data center markets. Additional information on the development will be disclosed after further consultation with the current tenant of the office complex. "
KKR-owned CyrusOne currently has five facilities in Frankfurt in operation or development, most less than 500 m away from the acquired site on the opposite side of the road.
Frankfurt l offers 9.1 MW of capacity across 4,950 sqm (53,400 sq ft); Frankfurt II offers 17.6MW across 8,400 sqm (90,350 sq ft); both were acquired from Zenium in 2017. Frankfurt III offers 22MW across 11,500 sqm (123,800 sq ft); and Frankfurt IV offers 11 MW across 5,400 sqm (58,050 sq ft).
In November 2021, the company announced plans for Frankfurt V, a 90MW facility located in the Hanau area to the east of Frankfurt. Construction is planned to start in Q2 2023, with the first 9MW phase of capacity due to be delivered in Q3 2024.
Digital Realty operates a campus nearby at Wilhelm-Fay Strasse 15; at full build-out, the site will total three buildings and 16,700 sqm (180,000 sq ft) and 27MW. Colt operates a facility at Wilhelm-Fay Strasse 7 as its Frankfurt West location, offering 2.4MW across 1,140 sqm (12,300 sq ft).