Cryptocurrencies, including Bitcoin and Ethereum, have plunged in value after exchange platform Binance pulled out of a plan to rescue its rival FTX Trading.
FTX had faced a capital shortfall after investors pulled out and the value of its token, FTT, tumbled. Binance had been due to save FTX by buying it for an undisclosed sum, but due diligence on the exchange's balance sheet raised questions about inter-related businesses belonging to crypto investor Sam Bankman-Fried. FTT now has an $8bn gap in its finances according to Bloomberg and the Financial Times, and is on the brink of collapse, with FTT plunging to one-tenth its previous value.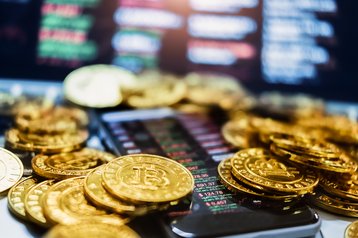 "In the beginning, our hope was to be able to support FTX's customers to provide liquidity, but the issues are beyond our control or ability to help," said a statement from Binance.
Falling value
The issue is causing concern across the crypto world, with Coindesk reporting bitcoin has fallen to $15,840, its lowest value in two years, and a fall of 25 percent in one week. Ethereum also dropped 13 percent.
The 30-year-old entrepreneur Benkman-Fried had been seen as "a savior of the crypto industry," April Joiner of Business Insider told the BBC earlier today, with FTX regarded as a "stalwart of the industry."
Bankman-Fried was one of the richest people in the world on paper, and his presence encouraged regular venture capitalists such as Sequoia Capital to invest in FTX.
Now Sequoia has written off its $214 million investment in FTX, and much of Bankman-Fried's $24 billion fortune could "evaporate" with the collapse of FTX, according to the Financial Times.
Bankman-Fried's properties include other crypto firms such as FTX affiliate Alameda Research, a key source of concern for Binance, as it appears that Alameda's balance sheet was based around FTT tokens which have plunged in value.
"There's no intrinsic value to crypto. It all boils down to fear of missing out and fear of looking stupid," Bill Blain, a strategist at Shard Capital told the BBC's Today program this morning. "People are asking themselves why is it a crypto exchange has crashed when it was funding itself with its own fictional currency."
But advocates for crypto argue that it is here to stay, and just needs better regulation, and scrutiny.
"The fiasco highlights the need for sensible regulation of the crypto industry," said Nigel Green, CEO of financial advisory group deVere. "Calls for greater regulatory scrutiny must be championed as digital currencies are set to play an ever greater role in the global financial system. Cryptocurrencies must come into the regulatory tent and be held to the same standards as the rest of the financial system."
"The cryptocurrency cynics, the Bitcoin bashers and the tired traditionalists will use these events as chance to attack," said Green. "However, I would argue that many of them would be the same people who would have probably rebuffed the internet back in the 1990s. But future-focused investors will understand that digital is the inevitable future of finance."
Recent US government figures revealed that the crypto niche is consuming as much energy as conventional data centers which perform real-world actions.
Bankruptcies and upsets in the sector continue with crypto data center firm Iris Energy revealing it was close to bankruptcy last week.