Cryptomining firm Lake Parime has called in administrators and been sold to Statar Mining.
Lake Parime pitched itself as a way to use excess renewable energy to power computer hardware. The company's modular 'Powerbox' data centers could run high-performance computing applications like machine learning, visualization, modeling, and - of course - blockchain and cryptocurrency.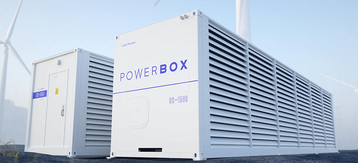 The company claimed to have deployments in the UK (Orkney Islands), Canada (British Columbia), and USA, but details were limited. It was known to be involved in a 10MW project at a dam in New Zealand, and was planning a 10MW cryptomine facility at a nuclear power station in Ohio that went live in November 2022.
The company becomes the latest cryptomining firm to go under in recent months. Interpath Advisory this week announced Ed Boyle and Will Wright were appointed joint administrators to Lake Parime Limited.
"Over the past 12 months, the value of the Group's recently-acquired specialist bitcoin mining hardware decreased due to its intrinsic link to the price of Bitcoin," Interpath said, adding that "a number of projects" where some investment had been made by the company fell away, leaving LP with legacy liabilities and "facing an immediate cash crisis".
Interpath said that after exploring options for investment and/or a sale of the business, it 'became clear that a solvent solution could not be found', and the directors placed the company into administration.
The joint administrators then completed a sale of the business and its assets to Statar Mining Limited, with 16 employees transferring to the purchaser as part of the transaction. The value of the sale wasn't disclosed.
Ed Boyle, managing director at Interpath Advisory and joint administrator, said: "The current 'crypto winter' has posed challenges for many companies operating across the crypto spectrum. In this particular instance, the price of Bitcoin fell by more than 60 percent over the course of 2022, which in turn impacted Lake Parime's ability to raise finance. We're pleased to have been able to conclude a transaction which safeguards jobs and which will enable the business to continue to trade."
Lake Parime hasn't commented publicly about the news. There is very little information about Statar Mining available online, with a LinkedIn page and website only linking to Interpath's announcement.
A 'crypto winter' of low cryptocurrency prices has seen companies throughout the crypto supply chain suffer. Compute North, another cryptomining data center firm, filed for bankruptcy in September, with the company saying it owed as much as $500 million to at least 200 creditors. December then saw Core Scientific file for bankruptcy.