Cryptocurrency data center and mining firm Iris Energy has defaulted on some of its debts tied to securing mining equipment.
Earlier this month the company reported two of its wholly-owned special purpose vehicles (SPVs), incorporated for the specific purpose of financing certain miners, were close to defaulting due to the miners under those SPVs generating less cash than their repayment requirements.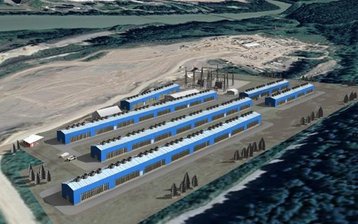 In an SEC filing this week, the company said two of its subsidiaries had defaulted on their debts. Though the wider company remains intact.
"The Non-Recourse SPVs have received default and acceleration notices from the lender in respect of the facilities, including a demand that each facility be immediately repaid in full," the company said. "While no assurance can be provided as to what actions may be taken, the company expects that the lender will take steps to enforce the indebtedness and its rights in the collateral securing the Facilities of Non-Recourse SPV 2 and Non-Recourse SPV 3."
As a result of the notice, Iris said certain other subsidiaries of the company have terminated their respective hosting arrangements with Non-Recourse SPV 2 and Non-Recourse SPV 3, and none of the 3.6 EH/s of miners owned by the subsidiaries are operating.
Non-Recourse SPV 2 and SPV 3 combined have debts totaling more than $107 million. The two vehicles currently produce insufficient cash flow to service their respective debt financing obligations; between them generating around $2 million of Bitcoin mining monthly gross profit, compared to monthly payment obligations of $7 million.
Non-Recourse SPV 2 and Non-Recourse SPV 3 failed to make scheduled principal payments by the extended due date on November 8, 2022, and as a result, received a default notice from the lender the following week.
Excluding the Non-Recourse SPVs, the wider group had $53 million of cash and cash equivalents as of October 31, 2022. Iris noted the group's data center capacity and development pipeline are unaffected by the news and is continuing to "explore opportunities to utilize its available data center capacity."
However, the company conceded that it expects the foregoing to "have a material adverse effect" on the business and its financial condition, cash flows, and results of operations.
"In addition, the foregoing could also have a material adverse effect on our ability to continue as a going concern," the company said.
In other crypto news:
– A class action lawsuit is being filed against Core Scientific. Law firm Bragar Eagel & Squire, P.C., has filed against the company in Western Texas Austin Court on behalf of all persons and entities who purchased or otherwise acquired Core Scientific securities between January 2022 and October 2022.
Core Scientific, which in October announced it was facing bankruptcy before the end of the year, is accused of making "materially false and/or misleading statements", as well as failing to disclose material adverse facts about the company's business, operations, and prospects. Specifically, Bragar et al said the company failed to disclose the company was experiencing increasing power costs; that the Company's largest customer, Gryphon, lacked the financial resources to purchase the necessary miner rigs for Core Scientific to host; that the Company was not providing hosting services to Celsius as required by their contract and had implemented an improper surcharge to pass through power costs to Celsius; that as a result of the foregoing alleged breaches of contract, the company was reasonably likely to incur liability to defend itself against Celsius.
- Australian crypto firm Arkon Energy has raised $28 million to expand its operations and acquired a European-based data center. The company has acquired Norway's Hydrokraft AS, which launched a 30MW data center in 2021 with the potential to reach 60MW. Arkon raised $2.6 million in pre-seed funding in February. Barkers Point Capital Advisors helped finance the latest deal.