Construction on the first phase of PointOne's Virginia Beach data center should start up again this year, the company said.
PointOne first revealed plans for two Edge data centers in Virginia Beach in 2018. The $80 million investment would see each building span 31,000 square feet (2,880 sq m) and used as cable landing stations as well as local Edge facilities. The first facility broke ground in May 2019 and was due to come online in late 2019/early 2020.
Colin Clish, PointOne chief operating officer, told Inside Business foundation work had already started prior to delays, but work was paused with around 10-12 months of work remaining because some clients moved back their timetables for occupying the space due to the coronavirus pandemic.
"We needed to get our facility to a place where it could be delivered quickly," Clish said.
For breaking data center news, features, and opinions, subscribe to DCD's newsletter
PointOne ready to resume work on Virginia Beach site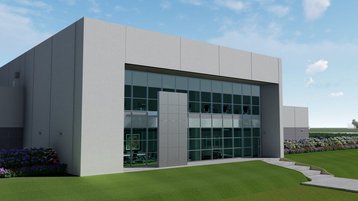 The Alberta, Canada-based data center developer is reportedly now soliciting tenants for its NAP of Virginia Beach campus as it moves forward on the first of the two planned buildings at Virginia Beach's Corporate Landing Business Park.
Clish added the company is waiting to secure agreements with primary anchor customers before finishing construction, as it will need to be able to customize the facility based on customers' needs.
The facility will include direct on-net connections to the MAREA, BRUSA, and Dunant subsea cables. Building One will have a critical load of 2.4MW (expandable to 4.8MW), while the campus has a total capacity of 9.6MW. The facilities will be built to withstand 200 mph winds (FEMA Wind Zone III).