The Columbia Threadneedle European Sustainable Infrastructure Fund (ESIF) has acquired a majority stake in Lefdal Mine Datacenter, a Norwegian facility built in a disused olivine mine.
Previously a significant shareholder, German industrial enclosure company Rittal will maintain a stake.
Big hopes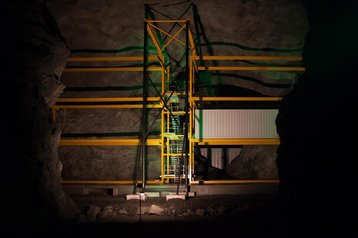 Lefdal Mine has the potential of being Europe's largest data center - with 75 underground halls, that are accessed by underground roads, and the potential to scale to 200MW of IT load, all cooled by the adjacent fjord.
But growth at the site has been slow. We visited the site back in the summer of 2017 for its opening, where a 4MW HPC installation was being used for cryptocurrency mining, and German-based Innovo Cloud (part-owned by Rittal) said it planned to use the facility for disaster recovery.
By October 2017, Lefdal announced it had signed a 3MW and 1MW contract, with Innovo and crypto company Fortuitus, bringing the site to a little over 8MW. Now, almost three years later, the company is at 10MW.
"With its 10MW of installed capacity, Lefdal Mine Datacenter has been in the early stages of developing the facility into a world-leading data center," company CEO Jørn Skaane said. "With ESIF coming in as a shareholder together with Rittal, the stage has been set for building out and operating large customer requirements. At Lefdal Mine Datacenter, customers do not have to worry about limitations in future capacity due to the size of our facility and access to high quantities of renewable power and cooling."
Heiko Schupp, global head of infrastructure at Columbia Threadneedle Investments, added: "We are excited to announce this new investment of ESIF, our open-ended, evergreen fund that invests in European mid-market equity assets. Lefdal Mine Datacenter is an attractive asset for ESIF due to its strong market fundamentals, competitive positioning, and the level of sustainability within its operations.
ESIF acquired its stake from Rittal, as well as from a consortium of local shareholders. "The former Norwegian owners, with Måløy based LocalHost group in the lead, initiated Lefdal Mine Datacenter in 2009 together with local utility company Sogn og Fjordane Energi," Sindre Kvalheim, CEO of LocalHost and former Lefdal COB, said.
"This group of investors now see that Lefdal Mine Datacenter needs a different owner structure to lift the data center to its full potential."