ClusterPower has bought three Rolls-Royce gas generator units for its 200MW gas-powered data center in Romania.
The site, billed as Romania's largest data center, will use three mtu Series 4000 gas generator sets to provide electricity, heat and cooling for the campus, near the southern Romanian city of Craiova, which will eventually have five data centers, and is billed as Romania's largest data center site.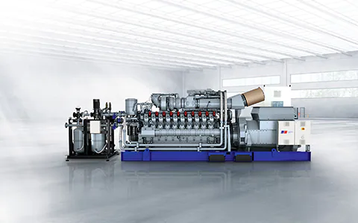 The units are hydrogen-ready and will be supplied by distributor Knopf & Wallisch (K&W).
CCHP
The 273,000 sq m ClusterPower campus will have a power usage effectiveness (PUE) of 1.1, ClusterPower promises, and will provide its own electricity, heating and cooling requirements using combined cooling heat and power (CCHP) provided by trigeneration plants based on the mtu gas engines. Distributor K&W adapted the gensets to capture most of the exhaust heat from the system with conversion chillers and transform it into chilled air to cool the data center facilities.
As delivered, the engines can use up to 25 percent hydrogen along with natural gas, and can be converted to pure hydrogen in future. The site will be independent of the grid, using the gensets for main power and the grid for backup.
"We need a very reliable and sustainable solution and a company that is innovative enough to match our ambitions," said Cosmin Georgescu, CEO of ClusterPower. "I think that Romania has a lot to say about the European future of innovation and digitalization and we have the opportunity here to develop new infrastructures, using the latest technologies and with modern environmental standards. We are lucky enough to start fresh and we will put this opportunity to good use. It is always nice to know that we have partners ready to support us in our endeavors."
ClusterPower has also promised to have the site certified to Uptime Tier III standards for reliability.
The company broke ground in October, and expects the first data center is due to open in the first quarter of 2022, with all five data centers due to be completed by 2025.