ClusterPower has broken ground on a hyperscale data center campus near Craiova in Romania.
The new facility is the first of a reported five planned to be built in the village of Mischii, Dolj county, on a ​​25,400 sq m (273,400 sq ft) plot of land owned by the company. ClusterPower has reportedly invested €40 million in phase one of the development.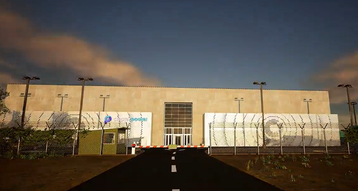 ClusterPower's site says its ClusterPower Technology Campus will have up to 4,500 racks and 200MW capacity and be powered with natural gas. Completion is scheduled for 2025.
As well as the groundbreaking event, the company held a conference at the University of Craiova.
"I think that Romania has many very specialized industries in the country that need the tools we create at Mischii; the supercomputer we will bring to Romania [will be] similar to the one used by Pfizer to create the Covid vaccine. Such a tool can certainly be used in the Romanian pharmaceutical industry or in the field of nuclear physics or in the energy sector", said Cosmin Georgescu, CEO of ClusterPower.
The company said that once complete, the campus would be 'the largest data center in Romania and one of the largest in Europe' and house 'artificial intelligence infrastructure' as well as store data.
Vladimir Ester, CTO ClusterPower, added: "Technology has progressed enormously in recent years and it is seen in the areas of ​​astronomy, medicine, transport, and even agriculture. They all need infrastructure, high processing power, telecommunications and a collaborative environment that can access this infrastructure from anywhere in the world. Our project in Mischii will do exactly that: it will create this infrastructure that will allow us a level of interconnectivity. which does not currently exist in Romania."
ClusterPower was founded in 2019 by Romanian entrepreneurs Cosmin Georgescu, Vladimir Ester, and Carmen Ursa Georgescu. The founders have previously had roles at energy firms Actual Connect and Romib SA, as well as technology and telco companies Datanet Systems, IT Prepared, Cisco, and Telekom Romania.
More in Construction & Site Selection