British machine learning chip company Graphcore has asked the UK's Competition and Markets Authority to block Nvidia's $40bn acquisition of Arm.
The Microsoft-backed startup filed a "major submission" to the CMA, Arm co-founder Hermann Hauser told CNBC.
"If Nvidia can merge the Arm and Nvidia designs in the same software, then that locks out companies like Graphcore from entering the seller market and entering a close relationship with Arm," Hauser, a Graphcore investor, said.
The news comes as Japan's Renesas Electronics Corporation announced plans to acquire British firm Dialog Semiconductor.
No Arm, no foul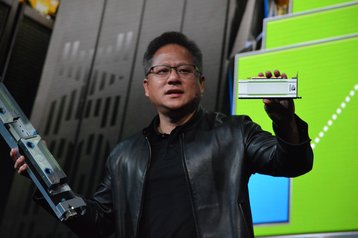 US GPU giant Nvidia agreed to acquire Arm from Japan's SoftBank last September.
Unlike Nvidia, which designs and sells its chips, Arm licenses out its designs to other chip companies, including Apple, Qualcomm, and Amazon. This approach means Arm earns significantly less per chip sold, but also means it ends up in more products.
Many of those products are made by Nvidia's direct competitors.
"Arm's business model is brilliant," Nvidia CEO Jensen Huang said at the time of the acquisition.
"We will maintain its open-licensing model and customer neutrality, serving customers in any industry, across the world, and further expand Arm's IP licensing portfolio with Nvidia's world-leading GPU and AI technology."
Since announcing its acquisition attempt, Nvidia has launched a charm offensive targeted at the public and government.
It has promised to keep Arm's headquarters in Cambridge, and build the UK's largest supercomputer. The system, set to be hosted by Kao Data, will be opened by Prime Minister Boris Johnson and Health Secretary Matt Hancock.
Graphcore declined to comment on its CMA filing. Last year, CEO Nigel Toon told CNBC: "It risks closing down or limiting other companies' access to leading-edge CPU processor designs which are so important across the technology world, from data centers, to mobile, to cars and in embedded devices of every kind."
Toon sold his previous chip company, Icera, to Nvidia for $435 million in 2011. Along with fellow founder Simon Knowles, Toon launched Graphcore in 2016. It has raised $750 million for its AI chips from Microsoft, BMW iVentures, Dell, Samsung, and others, Dell, Samsung, and others.
Entering into a Dialog
At the same time as the Arm debate, Japan's Renesas Electronics Corporation agreed to acquire British chip design company Dialog Semiconductor for $6bn.
Dialog makes power management technology for smartphones and other Internet-connected devices, as well as wireless chips.
Shares in Renesas dropped on concerns over the company's stretched balance sheet. Around half of Renesas' revenue comes from automotive semiconductors, but it has been on an acquisition spree to try to diversify its income streams.