Chief Telecom has broken ground on a new data center in Taiwan.
The telecoms firm said it plans to invest 2 billion NTD ($71m) in the nine-story facility (seven stories above the ground and two floors underground), its fourth in the country.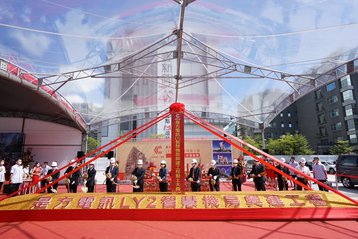 Built to Tier IV quality, it will have an area of 5,000 pyeong (16,500 sqm/178,000 sq ft). It will also be able to withstand earthquakes measuring 7.0 on the Richter scale through its Lead Rubber Bearing (LRB) seismic isolation design.
First announced in May of this year, the facility is scheduled to launch by end of 2023.
"The building of the new international-grade cloud IDC of Chief Telecom will be a fresh turning point of Taiwan's IDC and cloud service industries, and at the same time it is of great significance for accelerating the internationalization of the latter," said President Tsai Ing-Wen
Sheih Chi-Mau, president of Chief's parent company Chunghwa Telecom added: "It is Chief Telecom's 30th anniversary this year and also the groundbreaking of its fourth IDC, which can be said as a double blessing. I sincerely expect that Chief Telecom continues to boost its operational momentum, and strive for the sustainable operation and growth of the group companies."
Last month state-owned power company TaiPower broke ground on a 'cloud data center' in Changhua City.