The Republic of the Congo has signed a contract with IT company Sterling and Wilson to build a data center in its coastal city of Pointe-Noire.
The deal, signed this week, means the country should expect to see construction begin on a $30m data center soon. No further details have been revealed about the project, but the Export-Import Bank of India is an investor.
The Government's action is part of the Central Africa Backbone (CAB4) project that aims to establish better Internet coverage and improve the prospects of countries in the Economic Community of Central African States.
CAB4 is a terrestrial fiber network that is to run between Cameroon, the Central African Republic, Chad, Gabon, São Tomé and Príncipe, the Republic of the Congo, and the bordering Democratic Republic of the Congo. The project is funded by a loan from the World Bank which is currently anywhere upwards of around $280m.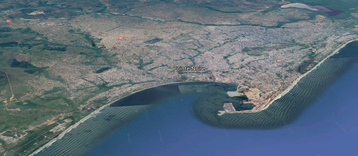 Neighbors and redundancy plans
The Democratic Republic of the Congo (DRC), meanwhile, has signed a deal with Liquid Telecom to provide a Cable Landing Station (CLS). The news was revealed on the DRC's Postal and Telecommunications Regulatory Authority's Twitter page on March 2.
Liquid Telecom's CLS is expected to connect the DRC to the submarine cable Equiano that Google wants to deploy between Africa and Europe. The location of the CLS has yet to be revealed, but the company already has a connection to the CLS in Muanda on the DRC's coast, so it may be positioned close to there.
This project is an attempt to secure the country against Internet blackouts, following the severing of the West Africa Cable System (WACS). The country, which has no redundancy, had to negotiate a connection with neighboring Angola to recover its access to the Internet.
More African cable news
In East Africa, Kenya is now officially connected to the submarine cable, Djibouti Africa Regional Express 1 (Dare1), that landed on the Kenyan coast of Mombasa on March 8.
In May last year, the Kenyan Government announced it wanted to connect to Dare1 and invested around $60m into the project. The Kenyan Government is expected to test the 5,000km branch in the coming days before it goes online. Dare1 has a capacity of 36Tbps and is the fifth cable that Kenya has linked up to.
The country is already connected to the SEACOM system, The East African Marine System, the Eastern African Submarine Cable System, and Lion2.
Once DARE1 is live, its deployment throughout the country and its management will be entrusted to the South African mobile operator Telkom.