Backblaze, a cloud backup and storage provider has expanded its data center portfolio by contracting 1MW of capacity at Nautilus's floating data center in Stockton, California.
Launched last year, Nautilus's 7MW Stockton facility lives on a barge, enabling it to take advantage of naturally cooled water. The barge takes in external water, holding it for ~15 seconds to transfer heat to it from an internal closed loop of pure water via a heat exchanger. The water leaves the CDU around 4°F/ 2.5°C warmer.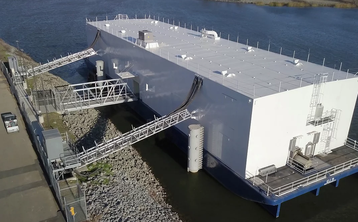 "We are challenging some of the world's biggest technology companies with Backblaze B2 Cloud Storage and Computer Backup, so efficiency and innovation are central to our success. Working with Nautilus is exciting because they are clearly committed to these same ideals," said Gleb Budman, CEO and Chairperson of Backblaze.
"We are excited to have Backblaze on board," said Rob Pfleging, the recently appointed CEO of Nautilus. "By partnering, we can help support their growth in a sustainable way. With our data center solutions focused on advanced cooling and power efficiency, Backblaze will not only be able to reduce their environmental impact but also lower their total cost of ownership all while continuing to meet the high demands of their growing customer base."
The Stockton data center, launched by Nautilus in April 2021 was the world's first floating data center and uses the natural water surrounding the facility for cooling. The data center runs with net-zero water consumption as well as no refrigerants or water treatment chemicals. It is ~70 percent more efficient than the industry average and is capable of supporting 7MW of critical IT load.
Earlier this year, DCD's Editor-in-Chief Seb Moss toured the facility, accompanied by Pfleging. Take a look inside the Stockton data center in the latest issue of the DCD>Magazine.