Amazon Web Services made a new record for a cloud service provider, passing $10 billion in revenue in a single quarter for the first time.
The division's revenue grew 33 percent over last year to $10.22bn, and was responsible for 13.5 percent of Amazon's total revenue. But, with significantly better operating margins than the company's e-commerce business, AWS' $3.08bn in profit (up 38 percent) was responsible for 77 percent of Amazon's overall operating income.
The largest cloud service just got larger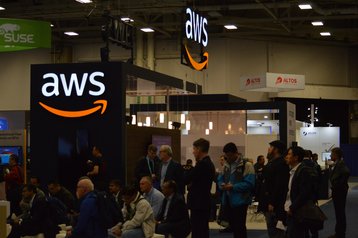 In the quarter, AWS announced major cloud deals with 3M, Bundesliga, and Carrier, as well as Covid-19 related contracts to host data for healthcare companies like Cerner and services like the UK's NHS.
In the same time frame, Google Cloud's revenue rose 52 percent to $2.8bn - but that also includes G Suite productivity and collaboration tools. Microsoft's commercial cloud business hit $13.3 billion in revenue for the quarter, up 39 percent - but that includes Azure, Office 365, and other services. Azure revenue grew 59 percent, but the dollar figure was not given. Amazon Web Services is believed to still comfortably be the largest cloud service.
AWS was able to eke out further profits this quarter due to a decision made in January, before the Covid-19 crisis became apparent: It extended the life expectancy of its servers, saving money and lowering the rate of the assets' depreciation. "The impact of a change in the useful life of our servers, mostly hitting in the AWS business - that was a $800 million benefit year-over-year in Q1," company CFO Brian Olsavsky said in an earnings call (via SeekingAlpha).
"And that will continue into the rest of the year. And that that again is the benefit we're seeing from being able to use our server and infrastructure assets for a longer time period. We've been working on the ability to run them longer, it's a hardware and a software challenge."
CEO Jeff Bezos did not take part in the earnings call, but instead sent shareholders a letter promising to take care of Amazon staff during the novel coronavirus pandemic. "The service we provide has never been more critical, and the people doing the frontline work - our employees and all the contractors throughout our supply chain - are counting on us to keep them safe as they do that work. We're not going to let them down."
This will impact Q2 profits, Bezos said: "If you're a shareowner in Amazon, you may want to take a seat, because we're not thinking small. Under normal circumstances, in this coming Q2, we'd expect to make some $4 billion or more in operating profit. But these aren't normal circumstances. Instead, we expect to spend the entirety of that $4 billion, and perhaps a bit more, on Covid-related expenses getting products to customers and keeping employees safe."
But the company and its leader have been heavily criticized for failing to prioritize staff safety, particularly among its warehouse workers. With forced overtime, and little personal protective equipment, many warehouse employees have called the facilities "hubs of infection" and claimed they have not been adequately informed when colleagues who tested positive for the virus had been in the building. Amazon does not disclose where Covid-19 cases have been discovered, but the group United for Respect says at least 130 facilities (out of 175) have confirmed coronavirus cases, some with more than 30 workers diagnosed with the virus.
After Amazon UX designers Emily Cunningham and Maren Costa spoke out against the treatment of warehouse staff, and the company's climate change policies, both were fired. It also fired warehouse strike organizer Chris Smalls (with a leaked memo later revealing the company planned to smear him as "not smart or articulate"), and warehouse worker Bashir Mohammed, who claims he was fired for attempting to organize his colleagues.
Technology workers, including Costa and Cunningham, organized a virtual meet on April 16 to discuss their concerns about Amazon's alleged lack of action over Covid-19 - two days after a warehouse employee died of Covid-19 complications. Amazon deleted the invitation to the meeting from thousands of its employees' calendars, but 400 attended. The company also told employees it would begin monitoring, moderating, and approving internal listservs communication chains involving more than 500 staff members.
At Amazon-owned Whole Foods, the company reportedly has begun using heat-mapping technology to track and quash potential union formation.
Workers from Amazon, Whole Foods, Instacart, Walmart, Target, and FedEx are set to call in sick as strike action today, May 1.