Amazon Web Services (AWS) has announced a new rugged Edge appliance only available to the US Department of Defense (DoD).
The company this week announced the availability of AWS Snowblade for the DoD's Joint Warfighting Cloud Capability (JWCC) contract customers.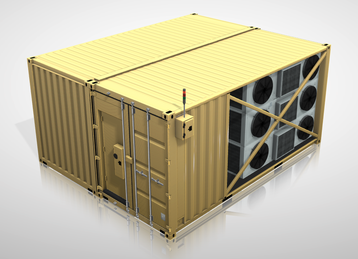 The Snow family of products are Edge appliances designed to collect data that can be physically exported to the cloud. They range in size from the 2.1kg AWS Snowcone appliance up to AWS Snowmobile, a container-sized device pulled by a semi-trailer truck.
AWS said the new Snowblade is designed to provide AWS compute, storage, and other hybrid services in remote locations, including Denied, Disrupted, Intermittent, and Limited (DDIL) environments – i.e those with limited bandwidth, sporadic connectivity, and no connection to the Internet – for the DoD.
"With support for 208 vCPU in a portable, compact 5U, half-rack width form-factor, AWS Snowblade is the densest compute device of the AWS Snow Family allowing JWCC customers to run demanding workloads in space, weight, and power (SWaP) constrained Edge locations," the company said.
Services supported on Snowblade include EC2, IAM, CloudTrail, IoT Greengrass, Deep Learning AMIs, Sagemaker Neo, and DataSync. It is available in the AWS GovCloud (US-West) Region.
Snowblade is the first Snow device designed to meet US Military Ruggedization Standards (MIL-STD-810H), with AWS saying this will enable customers to run operations in locations subject to extreme temperatures, vibrations, and shocks.
The $9 billion JWCC contract was awarded to AWS, Microsoft Azure, Google, and Oracle last year, after its predecessor JEDI contract was abandoned due to a number of lawsuits and legal challenges.
Earlier this year, AWS announced a modular data center for US Department of Defense customers under the JWWC contract.