Amazon Web Services has announced a modular data center for US Department of Defense customers.
The AWS MDC is available to government customers who are eligible for the Joint Warfighting Cloud Capability contract, the military's $9 billion cloud deal that was awarded to AWS, Microsoft Azure, Google, and Oracle.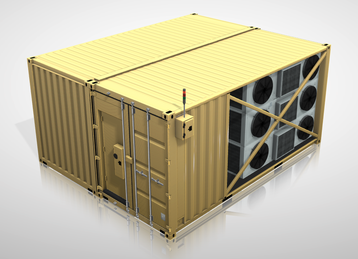 The AWS MDC comes in a ruggedized container designed for disconnected, disrupted, intermittent, or limited (DDIL) environments.
The modular system is self-contained, with internal networking, cooling, and power distribution equipment. It can be scaled with the deployment of multiple modular data center units.
Once deployed, it needs to be connected to power, and networking if using AWS Outposts.
If networking is unavailable, AWS MDC racked with Snow Family devices allows customers to run workloads using a limited subset of AWS services.
"As the digital battlefield continues to evolve, our defense customers increasingly need access to cloud capabilities at the tactical edge, including DDIL environments all over the world," Liz Martin, director of the Defense business at AWS, said.
"With AWS Modular Data Center, we are converting data centers from fixed infrastructure that is difficult to build and manage in remote environments, to a comprehensive service that is simple to use, secure, cost-effective, and can respond to large-scale compute and storage needs wherever the mission demands."