A solar farm in South Africa that will power an AWS data center in Cape Town has come online.
The 10MW solar plant contains 24,000 bifacial solar modules covering an area of 20 hectares in the Northern Cape.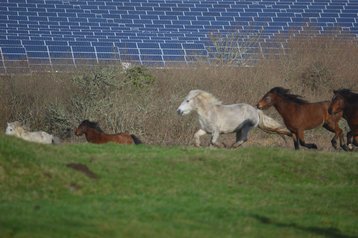 "Amazon is committed to working with governments and utility suppliers around the world to help bring more new renewable energy projects online, and we're honored to be able to work with the Department of Minerals and Energy, the National Energy Regulator of South Africa (Nersa), and Eskom to help deliver a new model for renewable energy generation in South Africa," said Nat Sahlstrom, director of AWS Energy.
AWS announced plans for a solar project in SA late last year, saying local firm Sola Group will be responsible for developing the project and will build, own, and operate the solar facility.
Amazon has been in South Africa since it set up a development center there in 2004, and later an AWS office in Johannesburg in 2015. AWS announced its first South African Cloud region in Cape Town in 2018 and it officially launched last year.
According to ITWeb, Sola Group is a South African firm majority-owned by black women.
"Historically, black women have been critically under-represented in infrastructure, agriculture and utility ownership," said Meta Mhlarhi, co-founder and executive director at Mahlako Financial Services, an investor in the project.
"Energy projects that enable black investment are our surest way to a just transition to renewable energy."
Amazon is the largest corporate buyer of renewable energy in both the US and Europe, with renewable energy investments of more than 10GW across 232 projects globally. Last week, Amazon's first wind project in Scotland came online.
By comparison, Microsoft recently said it has signed new purchase agreements for approximately 5.8GW of renewable energy across 10 countries across more than 35 individual deals over the last 12 months and 7.8GW worth of deals globally in total. Google has signed more than 5.5GW worth of PPAs in total, while Facebook says it has contracts in place for more than 6GW of wind and solar energy across 18 states and five countries.