A man was killed during an attempted robbery at a cryptocurrency mining data center in Abkhazia, a partially recognized separatist state that is seen as part of Georgia by most nations.
According to police, one of the men running the illegal facility accidentally shot one of his own friends during the incident.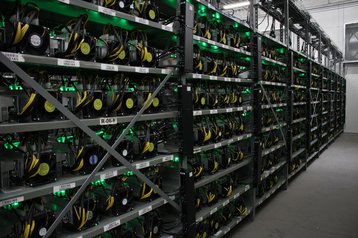 One of the data center's operators, Renat Temurovich Pachalia, allegedly used an illegal Kalashnikov assault rifle, while his friends used Kalashnikovs and Makarov pistols, to defend the facility from at least five people, police state.
At some point during the firefight, Pachalia accidentally shot his friend, Ardzinba A.B.
Cryptocurrency mining has boomed in Abkhazia due to its unique political situation. The Abkhaz–Georgian conflict is long and bloody, with Abkhazia seeking full independence and Georgia offering significant autonomy.
The conflict spiraled into an all-out war in 1994, as well as the ethnic cleansing of Georgians in the region. Efforts to repair relations were dashed during the 2008 Russian invasion of another disputed Georgian territory, South Ossetia. The five-day war had a lasting impact, with Russia and its allies officially recognizing both Abkhazia and South Ossetia as independent states, and stationing military bases in the regions.
Russia has since offered military protection and infrastructure funding to Abkhazia.
That brings us to power. The Enguri hydroelectric power station, the world's second-highest concrete arch dam, spans both Georgia and Abkhazia, meaning the crucial power plant can only function if the two sides cooperate.
This has led to an uneasy truce on matters involving the dam, with a 1997 agreement meaning that Georgia gets 60 percent of the energy generated by the 1,320MW power station and Abkhazia gets the remaining 40 percent.
Critically, Abkhazia essentially gets that energy for free (they just pay for distribution, not generation), leading to consumer prices of just $0.005 per kilowatt-hour in Abkhazia, compared to Georgia's $0.08 per kWh.
This has made it perfect for Bitcoin and other cryptocurrency mining operations - which, other than initial hardware costs, profit from the margin between electricity costs and the value of imaginary coins.
But a Bitcoin boom risks upsetting the uneasy power balance between the two regions. Georgian politicians claim that since 2018 power consumption in Abkhazia has grown significantly, with the region consuming 60-70 percent of the power plant, more than what was agreed.
Even with the region taking a greater share of the dam's power, it did not quench the thirst of cryptomining facilities. Abkhazia turned to Russia - which supplies additional power at a subsidized cost. However, the Georgian government is thought to have foot the bill because allowing Abkhazia to pay for it would mean acknowledging it as an independent state.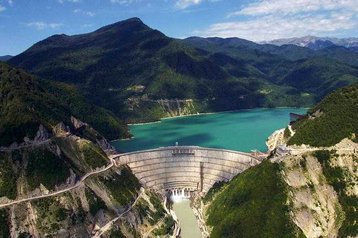 Adding to the crisis is the fact that the Soviet-era plant needs repairs - funded by the Georgian government, with help from the European Bank.
The plant was shut down in early 2021 for several months, returning in limited form this April. During this time, all of the region's power came from Russia.
Works are still ongoing at least until the end of the year, but the end result is expected to be a plant with 10-15 percent more capacity.
How long this will last is unclear, however, due to an even greater threat: Climate change. Discharges and sediment content data is not routinely tracked, and hydro-meteorological data is limited.
"This presents a significant economic risk as it is expected that in the medium term Georgia will experience increased variability of hydrological patterns, whereas in a more remote future, more profound climate changes may materialize," the European Bank for Reconstruction and Development warned.
Anecdotally, locals complain of less snow melt, and signs that the water supplying the dam is being disrupted by a changing climate.
Throughout this turmoil and a booming crypto industry, the local Abkhazia government has imposed rolling blackouts and tried to ban cryptocurrency mining - recently extending the ban to May 2022.
But the efforts to clamp down on mining appear limited, with no electricity metering and a small police force. Unemployment is estimated at between 40-70 percent, with cryptocurrency mining a rare opportunity for wealth - at least for those that can afford the initial set up fees.
At the same time, cryptocurrency values have once again soared, after crashing earlier this year. Bitcoin is currently worth around $60,900.