Icelandic colocation firm atNorth has launched its first data center in Sweden.
The company this week said its Kista facility in Stockholm is now online. It claims the data center is the first data center in Sweden 'specifically designed for high-density workloads' such as advanced calculations for AI, simulations, and risk analysis.
Construction on phase one of the SWE01: SIF DC facility in northern Stockholm began late 2020, with the first 1.5MW data hall originally due to be completed in December 2021. At full build-out, the data center will span a total of 6,400 sqm (68,900 sq ft) with more than 11MW of capacity.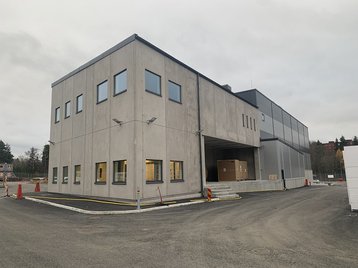 "Data-driven businesses require a new type of data center. We will be the first colocation player in the Nordics to build a facility fully equipped for high-capacity services from the start," said Stefan Jofors-aTribe, atNorth's Nordic Sales Director. "The choice of Stockholm and surrounding Sweden is strategic, with its access to renewable energy, great connectivity, and an infrastructure that allows us to deliver our services with high precision to customers both in and outside the Nordic region. We are very pleased to open the gates in Kista today."
The company said build-out of the data center will be continuous, with a second, larger data hall already in development and due to add another 2,750 square meters (29,600 sq ft). The second hall is set to come online in the second half of 2022 to make a total of 6MW.
"For a country like Sweden and a city like Stockholm, which is at the forefront of digitalization, data centers are an important part of the business ecosystem. Data centers are necessary whenever we use digital services, mobile apps, or conduct digital meetings," said Mayor of Stockholm, Anna König Jerlmyr. "We are pleased with atNorth's choice to establish itself in Stockholm, as we actively work to show hospitality to innovative companies that create value for the region."
Located in the Stockholm Information and Communications Technology (ICT) district, the site will eventually total 6,400 sqm (68,890 sq ft) across four data halls. The opening was pushed back due to supply chain issues.
"We should have had an inauguration in Stockholm in December, but it was postponed," CEO Eyjólfur Magnús Kristinsson said recently. "There were some critical components that did not arrive on time."
Through a partnership with Stockholm Exergi, the facility runs on renewable energy and is connected to a district heating plant where the excess heat generated could heat up to 20,000 apartments.
atNorth was formed as Advania in 2012 from three components: Skyrr, a public sector IT specialist in Iceland; Kerfi, a Swedish outfit with roots in a Nokia spinoff called Datapoint, and Hands from Norway. Swiss investment manager Partners Group acquired the company in December 2021.
In Iceland, the company has data centers in Keflavík and just outside Reykjavík in Hafnarfjörðu. The company is also planning another Icelandic data center in Akureyri, to the island's north.
In a recent interview, CEO Eyjólfur Magnús Kristinsson said the atNorth is planning a large-scale data center campus in northern Europe that could reach up to 50MW, but has yet to settle on a location.
More in Construction & Site Selection