AtNorth's latest 12MW Iceland-based data center is now operational.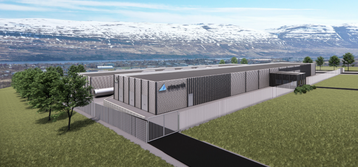 The colocation provider announced that ICE03, the company's third facility in Iceland, has commenced operations as of June 12.
Plans for the site were first announced in April 2022. The data center is located in Akureyri in the north of Iceland. The first phase of construction is around 2,500 sqm (26,900 sq ft) across two buildings with an initial capacity of 12MW. Construction took 11 months to complete and has cost over 3 billion ISK ($21.6m). At full build-out, the facility will cover over 4,000 sqm (43,000 sq ft) in five buildings and has the potential to scale up to 50MW.
"We are delighted to be expanding our presence in the Nordics once again with a third site in Iceland," said Eyjólfur Magnús Kristinsson, CEO, atNorth. "With six operational sites across three Nordic countries and another in development, our commitment to meet increasing demand in the industry through continued expansion is evidenced. Furthermore, our dedication to sustainable best practice supports our goal to become the service provider of choice for eco-friendly high-performance infrastructure."
ICE03 is linked to the country's closed grid which runs on 100 percent renewable hydro and geothermal energy. This, along with the country's naturally cool climate, enables the data center to maintain a PUE of 1.2 or less.
The facility was designed to cater to high-density workloads, offering densities of up to 40kW air cooling and 100kW liquid cooling.
AtNorth is a pan-Nordic data center provider specializing in colocation and high-performance computing (HPC). The company currently has six data centers across Sweden, Iceland, and Finland, with another Finland site currently under construction. AtNorth customers include BNP Paribas and Proptivity.
More in Construction & Site Selection