Nordic data center firm atNorth has acquired two data centers in Finland, marking its entry into the country.
The company this week announced it has reached a definitive agreement to acquire two data center facilities in Finland from IT services firm Advania AB, the company it broke away from in 2017.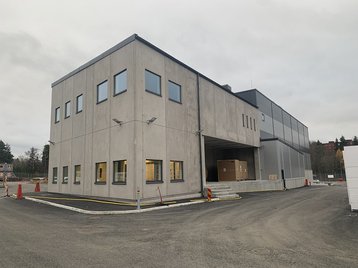 Details of the location or specifications of the data centers were not shared, nor were the terms of the deal. DCD has reached out for more information.
Update: atNorth tells us FIN01 is located in the Vallila area of Helsinki, while FIN03 is in Espoo. The two facilities combined offer capacity for 500 racks and 3.2MW.
atNorth said it will take over the operations and management of the two data centers, acquiring the sites and staff from Advania to continue running the facilities.
Advania's release on the news said the company was 'divesting two data center leasing contracts' to atNorth and 'entering into a multiyear colocation agreement' with the company.
"We are happy to launch atNorth's operations in Finland. It is a part of our growth strategy to grow and expand our services sustainably and strategically across the Nordics. As organizations increasingly move IT workloads to the Nordics, the investment into this region is critical for atNorth to continue to support our customers in a sustainable, efficient manner," said Eyjólfur Magnús Kristinsson, CEO, atNorth. "We are proud to invest into the region and Finnish data center industry with this acquisition, as we prepare to expand further into the region."
With roots back to 1939, Advania is an IT-services company operating in Sweden, Norway, UK, Iceland, Finland, and Denmark with more than 4,500 employees. The majority of the shares in Advania are owned by funds managed by the Private Equity team at Goldman Sachs Asset Management.
In its own press release, Advania said operating data centers is not a part of Advania's core offering and the divestment will allow it to focus more on its customer relationships.
"An important reason to establish a partnership with atNorth in Finland is their dedicated focus to deliver high quality and sustainable services," said Atte Kekkonen, CEO, Advania Finland. "We appreciate teaming up with companies with the same customer focus and quality mindset as ourselves."
atNorth was formed as Advania Data Centers in 2012 from three components: Skyrr, a public sector IT specialist in Iceland; Kerfi, a Swedish outfit with roots in a Nokia spinoff called Datapoint, and Hands from Norway. The company de-merged from the Advania Group in 2017 and rebranded to atNorth in 2020. Swiss investment manager Partners Group acquired the company in December 2021.
In Iceland, the company has data centers in Keflavík and just outside Reykjavík in Hafnarfjörðu, and has plans for a third campus in Akureyri set to open later this year. The company recently opened a new facility outside Stockholm in Sweden.
In an interview last year, CEO Kristinsson said that atNorth is planning a large-scale data center campus in northern Europe that could reach up to 50MW, but had yet to settle on a location.