Nordic colocation provider atNorth is to develop a new data center in the Helsinki area of Finland.
The company this week announced that it has reached an agreement to acquire an additional site in Finland that will be converted into its third data center in the country.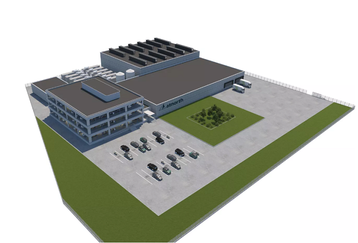 The site, acquired from local real estate firm Tallberg Group and located on Sinimäentie in Espoo (greater Helsinki), will have an initial total IT capacity of 15MW, and will be operational by Q3 2024. Terms of the acquisition weren't shared.
"We are thrilled to be expanding our presence in the Nordics with a third site in Finland," said Eyjólfur Magnús Kristinsson, CEO, atNorth. "With five operational sites across three Nordic countries and two more in development, this acquisition is a critical step in future-proofing our offering and supports our goal to continue to be the service provider of choice in the region. As organizations are increasingly seeing the benefits of moving IT workloads to the Nordics, we are committed to extending our services in a sustainable and efficient manner to become the go-to decarbonization platform for today and tomorrow's global organizations".
AtNorth said heat reuse systems will ensure that residual heat generated by the data center will be recycled to heat local housing.
In January atNorth acquired two data centers in Helsinki from IT services firm Advania AB, the company it broke away from in 2017. FIN01 is located in the Vallila area of Helsinki, while FIN03 is in Espoo. The two facilities combined offer capacity for 500 racks and 3.2MW.
"The FIN02 site is a fantastic addition to our fast-growing portfolio of data center sites across the Nordics," said Stephen Donovan, chief development officer, atNorth. "The site provides access to Helsinki's thriving technology ecosystem and is ideally located to support the delivery of our high-performance, environmentally responsible, power efficient, and cost-effective solutions."
atNorth was formed as Advania Data Centers in 2012 from three components: Skyrr, a public sector IT specialist in Iceland; Kerfi, a Swedish outfit with roots in a Nokia spinoff called Datapoint, and Hands from Norway. The company de-merged from the Advania Group in 2017 and rebranded to atNorth in 2020. Swiss investment manager Partners Group acquired the company in December 2021.
In Iceland, the company has data centers in Keflavík and just outside Reykjavík in Hafnarfjörðu, and has plans for a third campus in Akureyri set to open later this year. The company recently opened a new facility outside Stockholm in Sweden.
In an interview last year, CEO Kristinsson said that atNorth is planning a large-scale data center campus in northern Europe that could reach up to 50MW, but had yet to settle on a location.