Argo Blockchain is facing bankruptcy after admitting it was in financial trouble and could go bust by the new year.
"The company is at risk of having insufficient cash to support ongoing business operations within the next month," it said in an update this week.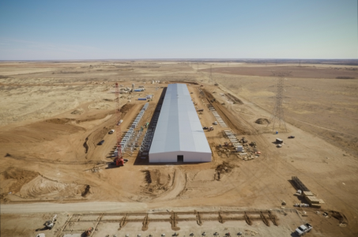 Argo said it was in "advanced negotiations" with a third party to sell certain assets and engage in an equipment financing transaction that it believes will 'strengthen its balance sheet and improve its liquidity' without the need to file for Chapter 11 bankruptcy.
However, the company warned: "There is no assurance that the company can avoid such a filing."
Argo operates three cryptomine facilities: Phase one of its facility in Dickens County, Texas, includes a 200MW, 126,000 square foot (11,700 sqm) data center and supports 200 MW of electricity. In Baie Comeau, Quebec, Canada, the company operates a 15MW, 40,000 sq ft (3,700 sqm) site it acquired from GPUOne in 2021. It's third facility, in Mirabel, Quebec, spans 20,000 sq ft (1,850 sqm).
The news that the company was struggling was revealed after the company accidentally published draft bankruptcy documents to its website, forcing it to acknowledge financial difficulties. As a result, the London Stock Exchange (LSE) and Nasdaq have paused trading on the company's stock.
The company has reportedly been trying to raise $25–35 million since late August, with a $27 million equity deal falling through in early November.
In a November update, Argo said mined 198 Bitcoin (equating to around $3.46 million) or Bitcoin Equivalents compared to 204 BTC ($4 million) in October 2022; at the end of November that company held 126 Bitcoin, of which 116 were BTC Equivalents.
Amid low cryptocurrency prices and increasing energy costs, a number of cryptomine data center firms are facing financial difficulties.
Compute North, which provides data center hosting services for cryptocurrency miners and blockchain companies, filed for Chapter 11 bankruptcy in Texas in September with the firm owing as much as $500 million to at least 200 creditors. It has since sold off several facilities and mining rigs.
Core Scientific has also warned it could run out of money by the end of the year, while Iris Energy recently defaulted on some of its debts.