A submarine cable could link Blackpool, UK to the US and Northern Europe.
The CeltixConnect-2 cable, which is being built by submarine cable provider and operator Aqua Comms, could have a landing point in Blackpool which would connect the city to Newcastle and Denmark as well as a series of ring-based submarine cable structures between North America and Northern Europe called the North Atlantic Loop.
Near the airport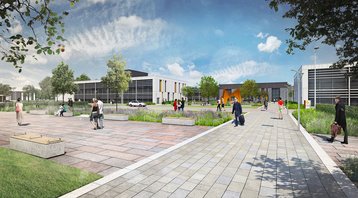 Aqua Comms is said to have made a multi-million-pound investment in the cable and claims the cable will have a latency of 0.06 seconds between Blackpool and New York.
A proposed meet-me point in Blackpool Airport could connect Blackpool to the CeltixConnect-2 cable. Planning permission for the meet-me point is due to be lodged with Blackpool Council later this week and if approved could connect to the submarine cable in September 2019.
Andy Hudson, Aqua Comms chief networks officer, said: "When the opportunity came for Aqua Comms to be involved in another cable build in the North Atlantic, we jumped at it. We worked with consortium partners Facebook, Google and Bulk Infrastructure, a data center operator based in Norway, to develop the cable system."
If approved, the Blackpool Airport meet-me point will be part of the Blackpool Enterprise Zone, a government backed industrial site which will provide tax breaks and support to entice local businesses.
Plans for the enterprise zone were submitted to Blackpool Council and Flyde Borough council at the end of last month. If approved, the enterprise zone would include a 3.2 million square foot area allocated for data center development with 27MW onsite generation facilities.
The possibility of a fiber optic submarine cable connecting to the city comes as Blackpool council has been granted £2.7m ($3.38m) of government funding to upgrade and activate fiber optic cables that run the length of the Blackpool coastal tramline. The line is one of the oldest electric tramways in the world and runs for 11 miles.
Simon Blackburn, leader of Blackpool council, said: "We are delighted to have secured a Government award which allows us to activate the fiber optic infrastructure which is already in place along the whole length of the tramway from Starr Gate to Fleetwood and will connect into Hillhouse Technology Enterprise Zone in Thornton."