Amazon's carbon emissions went up by 18 percent two years running, but the company says it will still be carbon neutral before 2040
The cloud and retail giant increased the amount of electricity it used from renewable sources in 2021, according to its sustainability report for last year, published this week.
However, the direct emissions from Amazon's operations went up by 26 percent because its business expanded massively. The "Scope 3" emissions from Amazon's supply chain, which are notoriously hard to control, also went up by 21 percent, resulting in a total increase of 18 percent.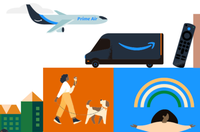 In 2020, the company's emissions went up by 19 percent, according to its first sustainability report issued last year. But the company still maintains it will "reach net-zero carbon emissions across our operations by 2040."
Can you grow - and cut emissions?
"We are proud of the progress we've made, but we recognize we have more to do," Amazon vice president of sustainability Kara Hurst said at the opening of a report which shows that Amazon's rate of decarbonization is not keeping pace with its growth.
"As we work to decarbonize our company, Amazon is growing rapidly," read the Environment section of the 100-page report.
The company grew its revenues 37 percent in 2021, and doubled the size of its fulfillment network, and this meant it had to scale up its physical presence. "We had to build new facilities - for both our consumer and cloud businesses - and expand our transportation network."
Amazon said it has been working to do this as efficiently as possible, using electric vehicles and buying more wind and solar power, so its energy use is better as a ratio - but not in absolute terms.
"With all of our growth in 2021, our absolute carbon emissions increased by 18 percent in 2021; however, importantly, our carbon intensity decreased by 1.9 percent."
This means that Amazon is pumping out less carbon per dollar of revenue (gross merchandise sale or GMS), but this is canceled out by the amount of growth in real terms.
"As companies invest in new products and services, and their businesses grow substantially, the focus should not be solely on a company's carbon footprint in terms of absolute carbon emissions, but also on whether it's lowering its carbon intensity. Over time, continued decreases in carbon intensity can lead to lower absolute emissions."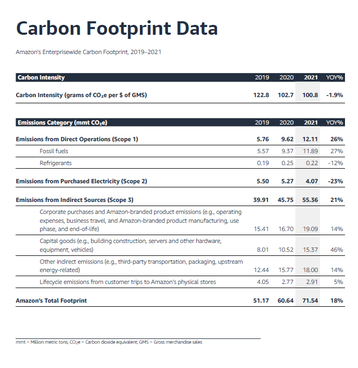 Data in the Appendix to the report (left) show that the company's carbon footprint increased on every score, except for emissions associated with its direct use of electricity - which have been driven down by aggressive use of power purchase agreements.
"While we've had success cutting emissions from some operations, we are still early in the process of transforming others," said the report. "Some actions and investments have immediate carbon savings, while others will take years to demonstrate results. The path to net-zero carbon has many obstacles, but we thrive on big challenges."
Amazon has reached 85 percent renewable energy in the electricity it uses directly, and plans to get that figure to 100 percent by 2025, although it should be noted that the company uses "pay as produced" PPAs instead of hourly PPAs. This means that much of the renewable electricity it is paying for is consumed by other customers, because it is not matched to Amazon's demand curves.
Amazon says it also plans to construct more sustainable buildings, and decarbonize its supply chain, but gives no dates or metrics for these goals. It did issue a Climate Pledge in 2019, but has previously sanctioned staff who criticize its environmental progress.
One of the biggest criticisms is that Amazon's promise to be net-zero "across its operations" only includes Amazon-branded goods, not those it resells from other manufacturers Other companies like Microsoft, with a broader definition of their Scope 3 emissions, have found a significantly higher footprint.
Initiatives listed in the report include buying a fleet of 100,000 electric delivery vehicles from Rivian Automotive in the States, which are due to be deployed by 2030, and investing in multiple renewable technologies.
End of the UPS?
The report did include one surprise aside, however. The environmental section includes the line: "In AWS, the team spent considerable resource innovating on power efficiency, removing the central Uninterruptible Power Supply from our data center design, integrating power supplies into our racks, and utilizing Graviton EC2 instances that use up to 60 percent less energy for the same performance than comparable Amazon EC2 instances."
DCD was aware that Amazon has been testing the use of power supply units which provide backup in the racks, that could in theory do away with the need for central UPS systems. We've not heard that this has been rolled out in a big way in Amazon data centers.
Microsoft proposed a similar idea seven years ago. But as far as we are aware, Microsoft has not removed its UPS systems.