Energy startup Electric Hydrogen (EH2) has secured backing from investors including Amazon and Equinor, for a total of $198 million.
The US company works on 100MW-minimum electrolyzer technology for industrial-scale green hydrogen production. Electrolyzer technologies produce hydrogen through electrolysis, separating hydrogen and oxygen molecules from water.
EH2 claims that it will be able to reduce the per-kg cost of fossil-free hydrogen produced using wind and solar power through 'advancements in the core electrochemistry' of its electrolyzers and by working at significant scales.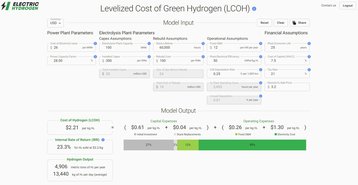 According to the company's open public access Levelized Cost of Green Hydrogen tool, at a cost of $26 per MWh and a power capacity factor of 28 percent, the cost of hydron would be $2.21 per kg, with an output of 4,906 metric tons per year.
The investment round was led by Fifth Wall Climate Tech. Partner Peter Gajdoš said: "This round represents more than an investment in a company. It's the biggest step yet toward meeting the urgent challenge of decarbonizing hard-to-decarbonize industries that are both essential to modern life and huge sources of GHG emissions
Alongside lenders Silicon Valley Bank and Trinity Capital, investors in this round also included Amazon's Climate Pledge Fund, Cosan, Equinor Ventures, Honeywell, Mitsubishi Heavy Industries, and Rio Tinto.
EH2 currently has a test stack operating at its headquarters in Natick, Massachusetts, and is hoping to deploy demonstration projects in 2023.
Its founders include engineering chief Dorian West, an ex-Tesla employee, and CEO Raffi Garabedian, who initially retired as CTO at First Solar in 2021, only to come back to work for Electric Hydrogen.
Garabedian said of the funding round: "We've demonstrated our enabling core technology, built an amazing team, and now have the capital we need to get our technology out into the world and start curbing emissions.
"Just as importantly, the participation of strategic partners at the forefront of the industries we are poised to decarbonize – energy, mining, logistics, and heavy manufacturing, to name a few – provides vital insight that will facilitate and accelerate our path to market."
Gareth Burns, Head of Equinor Ventures, added: "The energy transition represents an opportunity for Equinor Ventures to leverage its leading position within carbon management and hydrogen, and to develop and grow new value chains and markets. We are pleased to announce the investment in Electric Hydrogen as they scale up green hydrogen production to GW-scale."
Kara Hurst, Vice President for Worldwide Sustainability at Amazon, said: "We are proud to support Electric Hydrogen's innovative efforts to scale the green hydrogen economy and to meet the decarbonization needs of hard-to-abate sectors like freight transportation and ocean shipping."
More in The Energy & Sustainability Channel