The Federal Communications Commission (FCC) has approved Amazon's plans for its Kuiper Low Earth Orbit (LEO) satellite constellation.
The regulator this week granted the company a modification of its license for 3,236 satellites. The company is planning a total of 6,472 satellites including a refresh cycle.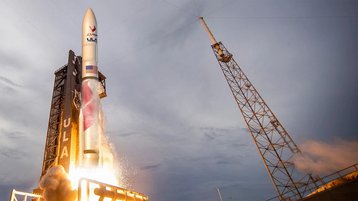 As reported by SpaceNews, Amazon was granted initial FCC clearance for its Ka-band Project Kuiper constellation back in 2020 on the condition that it secured regulatory approval for an updated orbital debris mitigation plan.
This week the FCC said the new conditional approval of the mitigation plan allows "Kuiper to begin deployment of its constellation in order to bring high-speed broadband connectivity to customers around the world."
As part of the mitigation plan, the FCC will require Amazon to provide semi-annual reporting around the number of satellites launched and disposal reliability. If disposal failures exceed the reporting threshold of two, the FCC will explore whether additional license conditions or limitations are necessary.
The company will also be required to report the number of collision avoidance manoeuvrers undertaken by its satellites, as well as any collision avoidance system outages or unavailability (both to individual satellites and the wider network).
Kuiper must ensure that its satellites have sufficient propellant to maintain collision avoidance capabilities, and utilize remaining fuel to lower the apogee below any inhabitable space stations.
"We find Kuiper's orbital debris mitigation plan to be sufficiently developed to support deployment of its NGSO (non-geostationary orbit) satellite system," the FFC said. "The conditions we adopt today will ensure that Kuiper's satellites are being built, deployed, and operated in a manner that serves the public interest by facilitating co-existence with other critical services, including those using various ranges of electromagnetic spectrum, enabling safe operation and reduced interference, and preserving sustainability of the space environment and orbital resources."
Kuiper must launch 50 percent of the maximum number of proposed satellites by July 2026, and the remainder by July 2029.
The FCC license also requires the company to work with the National Science Foundation to mitigate the impact of its satellites on optical ground-based astronomy.
Plans for the company's Project Kuiper constellation were first revealed in 2019. The company originally aimed to invest $10 billion in the project.
In November 2021, Kuiper filed plans to launch two test satellites – KuiperSat-1 and KuiperSat-2 – on ABL Space Systems' RS1 rocket by Q4 2022. The two satellites will help the company test its phased array and parabolic antennas, power and propulsion systems, custom-designed modems, and receiver terminals. However, the planned launch was later pushed back to early 2023.
In other space news:
SpaceX's Starlink is reportedly close to being profitable. Speaking at the FAA's annual Commercial Space Transportation conference this week, SpaceX president & COO Gwynne Shotwell said: "This year Starlink will make money. We actually had a cash flow positive quarter last year."
CNBC added that Shotwell had "no update" on Starlink's plans to take Starlink public. CEO Elon Musk has reportedly told employees that the company isn't likely to take Starlink public until 2025 or later.
- China is to build ground stations on Antarctica to back its network of ocean monitoring satellites.
China Aerospace Science and Technology Group Co. is to build potentially the gateways at the Zhongshan research base after winning the tender with its 43.95 million yuan ($6.53 million) bid.
Reuters reports that the number of ground station antennae to be built isn't in the bid, but supporting images show four ground stations at the station in East Antarctica.
- Anuvu, which provides connectivity and entertainment solutions for maritime and aviation industries, is to use Telesat ground stations for an upcoming satellite constellation.
The company this week announced it will lease new antennas and ground-station infrastructure from Telesat to support the development of the Anuvu Constellation.
The facilities will support Tracking, Telemetry and Control (TT&C) for Anuvu's first two MicroGEO satellites. The machines are being built by Astranis Space Technologies Corp. with the first satellite set for launch in mid-2023, with entry into commercial service by year-end.
Telesate will install and operate 9-meter Ku-band and 9.2-meter Ka-band antennas at its Allan Park, Ontario teleport, with redundant operations at its Calgary, Alberta teleport.
"The newly-built, state-of-the-art antennas at diverse locations within Canada allow us to maximize the capacity available to our US and Caribbean customers, reducing latency with shorter paths to the Internet and offering increased network resiliency," said Tim Southard, Anuvu VP of Networks. "Anuvu's partnership with Telesat will allow us to continue a superior connectivity experience."
Philippe Schleret, vice president of Aviation for Telesat, added: "We are proud to continue to build on our longtime partnership with Anuvu to enable the seamless transition to LEO for the global mobility market."
- Atlas Space Operations has signed on as a customer of AWS Ground Stations. Atlas operates 15 ground stations around the world and will gain access to 11 more.