Despite warning last quarter that Covid-19 costs could lead to a $1.5 billion loss, Amazon doubled its net profits to $5.2bn - a company record.
Revenue across the company jumped to $88.9 billion, up 40 percent.
But Amazon Web Services continued to see growth slow, hitting the sub-30 percent mark for the first time. Due to the size of AWS, its 29 percent growth to $10.8bn is still much larger than most cloud competitors in actual terms.
Recessions happen to other people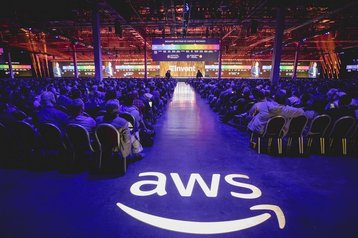 Fresh off of an antitrust hearing where he argued Amazon was not an unstoppable force, CEO Jeff Bezos opened the earnings call with a statement thanking employees for working during the pandemic.
It is unknown how many warehouse workers have died because of Covid-19, with the company criticized by employees for how it protected them during the early days of the virus.
"We spent over $4 billion on incremental Covid-19-related costs in the quarter to help keep employees safe and deliver products to customers in this time of high demand — purchasing personal protective equipment, increasing cleaning of our facilities, following new safety process paths, adding new backup family care benefits, and paying a special thank you bonus of over $500 million to front-line employees and delivery partners," Bezos countered.
The company's retail business, subscription business, advertising business, and other divisions all saw revenue growth.
But AWS growth slowed, continuing a trend visible since the company began reporting AWS figures independently. As tallied by Emil Protalinski, growth has steadily been ticking down for the last three years:
Q1 2017: 43 percent
Q2 2017: 42 percent
Q3 2017: 42 percent
Q4 2017: 45 percent
Q1 2018: 49 percent
Q2 2018: 49 percent
Q3 2018: 48 percent
Q4 2018: 45 percent
Q1 2019: 41 percent
Q2 2019: 37 percent
Q3 2019: 35 percent
Q4 2019: 34 percent
Q1 2020: 33 percent
Q2 2020: 29 percent
CFO Brian Olsavsky said that the recent slowdown was partially due to customers in challenged sectors looking to save money by reducing cloud usage. "And we think that's the right thing to do, not only for their success and so they can come out of this [in] better shape but also for the long-term health of our relationship with them as an AWS provider," he said.