Amazon has acquired a seven-acre parcel of land in Santa Clara, California, for more than $50 million.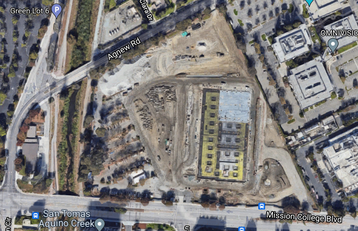 Mercury News reports that per real estate documents filed on Jan. 4 with the Santa Clara County Recorder's Office, Amazon subsidiary Amazon Data Services acquired a seven-acre site at 2315 Mission College Blvd. in Santa Clara for $51.8 million.
The company bought the land from an affiliate of IPI Partners, which has quickly flipped the land for a profit; IPI Oppidan DC Venture Phase II paid $47.1 million for the parcel in June 2021. IPI reportedly owns an adjacent 8.8-acre plot that is also being used by Amazon for data center development.
Last year IPI bought a nearby 700,000 sq ft (65,000 sq m) plot at 2305 Mission College Blvd for $100 million. The site contained a 358,000 sq ft (33,000 sq m) two-story building once used by General Dynamics as an R&D facility and AWS reportedly aims to build a 60MW data center there; it has a 15-year lease on the site with the option to buy.
In 2018, a redevelopment project tried to turn the site into a two-story, 495,000 sq ft (46,000 sq m) data center for Aligned Data Centers, but the effort ultimately fizzled.
According to previous documents, Amazon plans to build two center buildings on the site; the first phase spanning 285,768 square feet (26,548 sq m), and the second 229,974 sq ft (21,365 sq m). The facilities will be AWS' first self-built data centers in Santa Clara; the company operates through Equinix and Digital Realty leases across the Bay Area.
Land in Santa Clara is at a premium; last year Vantage paid $40 million for a 6.7-acre plot close to its existing campus on Walsh Avenue.
More in Cloud & Hyperscale
More in Construction & Site Selection