Utility Silicon Valley Power will build a new substation to support an upcoming Amazon Web Services data center in Santa Clara.
The facility will be developed by Oppidan Investment Company, which will also pay for the substation - on behalf of AWS.
Amazon's involvement in the data center was first disclosed in early 2020 when the company bought the site for $100 million. Now, council documents regarding the substation have provided a few extra details about the project.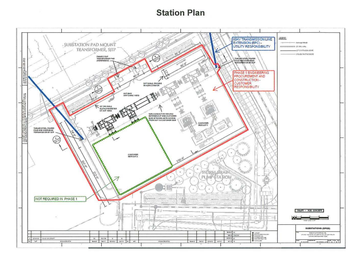 The site at 2305 Mission College Blvd, Santa Clara, was previously home to a 358,000 sq ft (33,000 sq m) two-story building once used by General Dynamics as an R&D facility.
In 2018, a redevelopment project tried to turn it into a two-story, 495,000 sq ft (46,000 sq m) data center for Aligned Data Centers, but the effort ultimately fizzled.
In 2020, Amazon then picked up the site, hiding its identity through shell company KTJ LLC. The data center will be Amazon's first in Santa Clara, although it operates through Equinix and Digital Realty leases across the Bay Area.
Council documents reveal that the data center will be built by Oppidan Investment Company, a property development firm that has been linked to other Amazon data centers.
The project will span two distinct data center buildings, the first phase spanning 285,768 square feet (26,548 sq m), and the second 229,974 square foot (21,365 sq m).
Each will be three stories tall with a height of approximately 88 feet, and also include a rooftop penthouse enclosing mechanical equipment.
With each building having a power capacity of 49.5MVA, the current grid infrastructure will not be able to support the data centers, necessitating the construction of a new 60kV 'Freedom Circle Junction' substation, as well as a 9MVA interim service.
Silicon Valley Power will also undertake transmission capacity improvements, including upgrades to its 230kV, 115kV, and 60kV transmission lines.
With Amazon the sole customer of the substation it will (via Oppidan) pay for the 26 month-long design and construction process, with the exception of the City-owned control building. It is expected to cost $5,388,260 across three payment milestones, one of which has already been paid.
After it is built, property rights will transfer over to SVP, which will operate and maintain the substation.