Amazon this week announced its first renewable energy project in Singapore, which will see them buy renewable energy from Sunseap Group, a leading solar energy provider in Singapore.
As part of the long-term agreement, Amazon will export 62 megawatts (MWp) of clean energy from Sunseap's upcoming installation awarded as part of JTC's SolarLand project. When operational in 2022, the new installation is expected to amount to 80GWh of clean energy annually.
DCD's Sustainability Supplement shows how data centers can help fight climate change
Temporary vacant land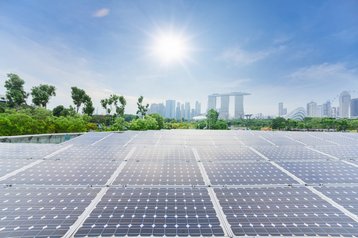 The installation itself is noteworthy in that Sunseap will deploy the solar systems on an estimated 40 hectares of temporary vacant land across Singapore. Unlike conventional fixed designs, these systems are designed to be modular and can also be repositioned for better sun exposure as weather conditions change.
When completed, they will be the largest aggregated mobile solar system designed and installed in Singapore. The benefit is that they can be redeployed when the land is needed for other uses, offering versatility to land-scarce Singapore.
Amazon says this project will help it meet its commitment to power our operations with 100 percent renewable energy by 2030, a goal it says it is on a path to meet five years early. This project will supply renewable energy for Amazon offices, fulfillment centers, and AWS data centers in Singapore through the national grid.
"We are delighted to be collaborating with Amazon on a project of this scale and to help the company reach a laudable goal of powering its operations with 100 percent renewable energy," said Lawrence Wu, the co-founder and president of Sunseap Group.
"We are proud to partner JTC on SolarLand Phase 3 which allows us to contribute to JTC's efforts to solarize temporary vacant industrial land across Singapore. Sunseap has been a leader in rooftop installations and we are grateful for this opportunity to prove that we are equally adept at installing ground-mount systems."
In the Asia Pacific, Amazon has announced various renewable energy projects in countries such as Australia and China since 2019. When it comes online, the additional solar power from Singapore will contribute to the more than 900GWh of renewable energy supplied to local electricity grids in Asia.
Despite being the largest public cloud player in the world, Amazon is still playing catchup when it comes to renewable energy. In comparison, Google matched all its global electricity consumption with renewable energy in 2017, while Microsoft has set a goal of 100 percent renewable energy by 2025.
Sunseap is also providing 100MW of solar to Facebook.