Facebook has signed a Power Purchase Agreement (PPA) with Singaporean energy company Sunseap Group to build and use solar panels on the rooftops of 1,200 public housing blocks and 49 government buildings.
The social media and advertising giant will receive Renewable Energy Credits (REC) produced by the project once it's completed in 2022. Up to 100MW of power will be bought at a pre-agreed price and Facebook will use the REC to offset its own costs.
Sunny rooftops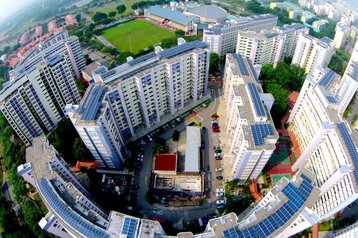 The deal follows Facebook's pledge to shift over to using 100 percent renewable energy by the end of the year and cut greenhouse gas emissions by 75 percent. The company previously set a goal of 50 percent renewable energy for its data centers by 2018 but managed to hit 51 percent by 2017. Last month, the company signed a 235MW PPA with Rocky Mountain Power in Utah, US, to build three new solar energy projects.
"We want to help drive the energy transition and increase access to wind and solar power around the world," said Urvi Parekh, head of Renewable Energy at Facebook. "This project will be an important part of successfully reaching our targets in the region, including supporting our data center operations with renewable energy, and we are thrilled to be partnering with Sunseap to add this new solar power to the Singapore grid."
The social media company is joined by other large Silicon Valley firms in pledging to meet their own green targets. Apple was one of the first companies to power itself with renewable energy back in 2013; now, the company has a 2030 carbon-neutral goal to neutralize carbon emissions across the board. Google also pledged to cut its carbon emissions and has been renewably powered since 2017.
Sunseap's president and executive director Lawrence Wu added: "We believe [PPA] is the way to go for enterprises as they accelerate efforts to add renewables to their energy mix. This is a game-changer in Asia's drive to decarbonize and fight climate change. Furthermore, companies that are constrained by a lack of space to install solar panels or those that require geographic flexibility will find a virtual contract eminently suitable for their needs."
Sunseap has a general portfolio of more than 300MW in solar energy projects under contract and 168MW in established solar panels across more than 1,500 buildings in Singapore. Sunseap also operates several solar facilities elsewhere in Asia, such as a 168MW solar farm in Vietnam and 140MW solar farm in India. In 2018, Sunseap and Microsoft partnered up to sign a 20-year 60MW PPA. Until Facebook's deal, the PPA was at the time the largest-ever solar project in Singapore. The Microsoft deal also involved solar panels operating across hundreds of rooftops.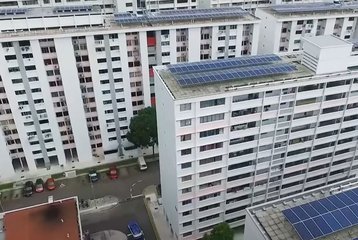 This isn't the first time Facebook has worked with renewable energy companies in Singapore. Two years ago, Sembcorp Industries signed a 20-year deal with Facebook to supply it with solar power derived from almost 900 rooftops. The project is expected to be finished and up and running this year. Last month, Sembcorp Industries also signed a multi-year deal with Google.
Back in 2019, it was reported by the Strait Times that authorities in the city-state wanted to ramp up their solar power production.
Officials set 2030 as the target whereby Singapore would up its solar production by seven-fold; increasing capacity from 260MW to around 2GW. Enough to power around 350,000 households or four percent of Singapore's total electricity demand.
Solar energy is seen as the most viable option for Singapore due to the country's small size. However, due to overcast weather and the resulting low light levels, not to mention the cost of deployment, there are challenges to rolling out panels in the city-state. More than 95 percent of Singapore's power needs are therefore met by natural gas.
Deployment of solar panels onto rooftops, reservoirs, offshore sea space, and on the vertical surfaces of buildings are now encouraged. By the end of 2020, the plan is that one in two public housing rooftops will have solar panels deployed.