In an extensive report, environmental organization Greenpeace detailed the various ways the hyperscale cloud companies are working with fossil fuel extraction firms.
Amazon Web Services, Microsoft Azure, and Google Cloud all provide not just standard cloud hosting services, but extensive artificial intelligence and machine learning systems to help make it easier to dig up more climate change-exacerbating carbon.
I host your milkshake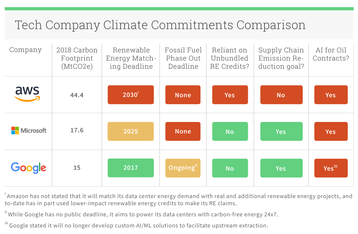 Greenpeace admits that its analysis was not able to find every single contract, and it is hard to judge to what percentage a cloud partnership has helped a fossil fuel company. However, machine learning and simulation can be used to find new oil deposits, make extraction easier and cheaper, and save money through logistics improvements.
Microsoft appears to have the most contracts with oil and gas companies, Greenpeace believes, with the Redmond giant offering AI capabilities in all phases of oil production. A brief search of Azure's website finds BP, Shell, Eni, Petrofac, ExxonMobil, Chevron, Oilfield Solutions, and Volga Gas among its many customers.
"Microsoft can never truly achieve its recently announced 'Carbon Negative' goal while continuing to aid the oil and gas sector with exploration and production," Greenpeace's analysis states.
"Microsoft's contract with ExxonMobil alone could lead to emissions greater than 20 percent of Microsoft's annual carbon footprint."
In total, Greenpeace showcased 14 major deals between oil companies and cloud providers, but the number is far greater, especially when you include smaller companies involved in the fossil fuel extraction process.
Amid growing criticism, last month saw Amazon make one change. It updated its 'AWS for Oil & Gas' webpage to instead say 'AWS Energy.'
"Amazon has also issued a policy on its contracts with oil and gas, stating it will provide cloud services to the energy industry to help them accelerate the development of their renewable energy business," Greenpeace said. "However, this does not line up with the nature of many of the machine-learning contracts we examined. Indeed, AWS appears to have only one example in which its capabilities are advancing renewable energy."
There does seem to some positive movement, however.
Talking to theCube earlier this month, Google Cloud's Will Grannis said that the company would no longer "develop custom AI/ML solutions to facilitate upstream extraction" for the oil and gas industry, something the company later confirmed to OneZero.
But the company appears to have no plans to wind down its existing upstream extraction contracts (including with Chevron, Total, Schlumberger, and BP), nor will it stop providing custom solutions to midstream and downstream companies. Its move comes after internal protests, with more than 1,000 employees signing a letter against doing business with oil companies.
"With just 10 years to halve global emissions and stabilize the climate, it's hard to imagine how any use of AI by the oil and gas industry to boost production could be considered socially beneficial," Greenpeace said.
"Google should revise its AI guidance to explicitly exclude the use of AI for fossil fuel exploration and production, setting an example for its peers to follow."
Former Google researcher Meredith Whittaker added on Twitter that Google needs to define what it means by "custom." She added: "This isn't a term of art in [machine learning]. During the Maven debates Google execs claimed they were not building custom models for the DOD, even though they were building purpose-specific aerial surveillance models trained on geo images from the Middle East."
Whittaker resigned from the company last year, claiming Google had retaliated against her for speaking out about its sexual harassment policies and military contracts.