Amazon and Microsoft quietly took over Department of Defense contracts related to Project Maven, after rival Google dropped out due to staff protests.
The cloud and AI deals, focused on helping the US military identify objects from drone and other aerial footage, were worth around $50 million.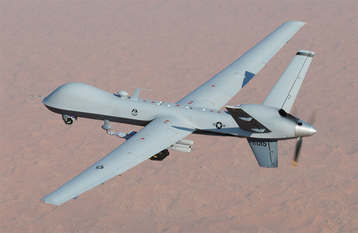 The contracts, discovered by Tech Inquiry's Jack Poulson and first reported by Forbes, show that Microsoft started the work in 2019 and Amazon Web Services in 2020. The former raked in $30 million, while the latter scored $20 million.
After Gizmodo reported in 2018 that Google was secretly working on 'Project Maven,' an AI system to analyze drone footage, employees at the wider company protested vociferously. Some senior AI researchers at the company quit, and anti-warfare stickers appeared across Google campuses. The contract was quietly shelved.
Poulson also quit Google AI that year, but due to its work on a secret Chinese search engine.
"We believe that Google should not be in the business of war," a petition signed by thousands of employees said at the time. The company has maintained that the $9 million contract itself was only for image recognition and not in itself harmful, but it would have helped support the US government's expansive drone program.
An analysis published by civilian harm monitoring group Airwars, based in part on US military data, found that American drone and airstrikes have killed between 22,679-48,308 civilians since the 9/11 terrorist attacks in 2001.
After employee pushback, Google drafted a set of AI principles where it claimed it would not work on technologies that "cause or are likely to cause overall harm," nor would it work on "weapons or other technologies whose principal purpose or implementation is to cause or directly facilitate injury to people."
CEO Sundar Pichai also ruled out "technologies that gather or use information for surveillance violating internationally accepted norms," or "technologies whose purpose contravenes widely accepted principles of international law and human rights."
It is not clear how closely Google follows these principles, with the issue of who it should work with and how a point of internal contention.
The company still bids for Department of Defense contracts, hiring Josh Marcuse from the DoD's Defense Innovation Board in 2020 and signing a deal with the Defense Innovation Unit, although only for a cybersecurity contract and not a weapons program.
It also has partnerships with fossil fuel companies, including cloud contracts with Chevron, Total, Schlumberger, and BP as of 2020, and a cloud joint venture with the tech division of Saudi Aramco. The company is keen to note that it is not directly working with the fossil fuel-side of Saudi Aramco, but it helping the bottom line of the world's largest producer of oil, a company owned by a state known for violating human rights.
Google says that it is no longer "developing custom AI/ML solutions to facilitate upstream extraction" for the oil and gas industry, but it is not clear if it provides custom solutions to midstream and downstream companies, or whether it provides non-custom solutions for upstream extraction.
The company has also worked with controversial government organizations like the US Customs and Border Protection, which have been caught violating human rights. Google's work with the CBP is not believed to be huge, however: A 2019 request for information by the agency said that it used the Google Cloud Platform, as well as those of its competitors, Amazon Web Services, Microsoft Azure, IBM Cloud, and Oracle Cloud. When the CBP sought a larger cloud contract, Google employees protested.
"We are not working on any projects associated with immigration enforcement at the southern border," Google Cloud head Thomas Kurian said last year. "We have spoken directly with Customs and Border Patrol, and they have confirmed that they are not testing our products for those purposes."
His comments came after The Intercept reported that CBP accepted a proposal to use Google Cloud technology to facilitate the use of artificial intelligence deployed by the CBP Innovation Team, known as INVNT. The CBP team was working on a 'virtual' wall along the southern border, using surveillance towers and drones.
Last week, Business Insider reported that Google (along with Amazon, Microsoft, IBM, and others) employees attended an industry day held by Immigration and Customs Enforcement to potentially bid for an investigative analytics tool called RAVEn. The project could be worth up to $300 million over three contracts, and would mine social-media information, and processing surveillance footage and biometric data. "We did not bid, nor plan to bid on the contract in question," Google told DCD in a statement. "Google is proud to provide cloud services to the US government across all agencies, including the Department of Homeland Security, Department of Defense, Department of Energy, and more. All work that we undertake with the government complies with our Acceptable Use Policies, Terms of Service, and AI Principles."
Microsoft and Amazon, meanwhile, have been more open about pursuing military contracts (as well as fossil fuel and CBP deals), and are arguably more opaque about their AI and cloud principles.
"If big tech companies are going to turn their back on US Department of Defense, this country is going to be in trouble," former Amazon CEO Jeff Bezos said in 2018.
That year, Microsoft president and chief legal officer Brad Smith concurred: "We believe in the strong defense of the United States and we want the people who defend it to have access to the nation's best technology, including from Microsoft."
Both are competing for contracts under the Joint Warfighter Cloud Capability contract, a huge project that was formed after the $10bn Joint Enterprise Defense Infrastructure initiative fell apart.
Microsoft also has a huge $22bn deal to deliver 120,000 custom HoloLens kits to the US Army. As part of the contract, Microsoft will provide cloud and Edge services to support the augmented reality kit.
In November 2020, the DoD awarded General Dynamics IT a $4.4bn contract to provide the military's cloud email and business software services. GDIT, with partner Dell, is essentially reselling Microsoft Office 365 services.
Both hyperscalers are currently fighting over a $10bn cloud contract with the National Security Agency.