Data center provider Aligned has opened its second data center in its Salt Lake City campus in West Jordan, Utah.
The facility, built on a greenfield site, has 48MW power, expandable to 60MW, and 240,000 sq ft (22,300 sq m) of space.
Aligned to a big hub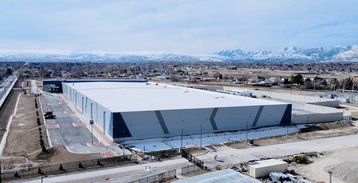 "The growth of this vibrant Western technology hub, combined with some of the most attractive tax incentives in the US, has prompted many companies to deploy infrastructure in the Salt Lake City region," said Andrew Schaap, CEO of Aligned. "The completion of the initial phase of Aligned's SLC-02 will add significant capacity for organizations needing adaptive, efficient and scalable data center infrastructure for their growing cloud and application workloads."
The data center will use Aligned's Delta3 cooling system, a cooling array, which draws large amounts of air slowly through the facility to remove heat, saving energy over systems that require fast-moving air. Schaap says this is more flexible than other systems, scaling up to 50kW per rack, and the array of fans can be extended as each additional aisle of IT equipment is installed. Aligned claims this saves up to 80 percent of the energy and 85 percent of the water used by traditional cooling systems, and improves the power usage effectiveness (PUE) of data centers.
"We're thrilled to see Aligned expand their local campus, delivering on an additional phase and expanded capacity in the City of West Jordan," adds City Mayor Dirk Burton. "This tremendous investment will not only help foster the fantastic technology industry growth that's taking place along the Wasatch Front, but also signals confidence in our strong, home-grown workforce and aggressively pro-business environment."
Utah has seen a lot of data center development in recent years, with Facebook announcing a giant facility in Eagle Mountain in 2018, which has already been expanded in 2019, with another expansion announced in February 2021. DataBank has five data centers in the Salt Lake City metro area.