Hyperscale data center firm AirTrunk has opened its second data center in Sydney, Australia.
The first phase of the SYD2 facility in the North of the city opened today. Once the four phases are complete the new data center will have a total capacity of 110MW. Built in 35 weeks, Phase One construction involved over 2,800 people and 400,000 work hours.
Register now for our upcoming virtual conference on data center energy integration: DCD>Grid Scale
AirTrunk uses real-time weather data analysis for cooling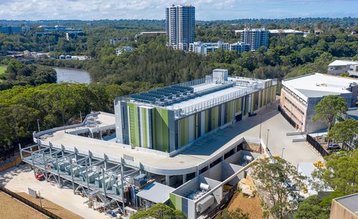 First announced in 2019, the new facility joins AirTrunk's existing 130MW Western Sydney and 130 MW Melbourne facilities, taking the company's total capacity in Australia to over 370MW. The company has five data centers in total, having opened the launched centers in Hong Kong and Singapore in December 2020. A large facility in Tokyo is also in development.
"Throughout the Asia-Pacific region we're delivering hyperscale data center campuses at an accelerated speed to enable the growth of the digital economy," said AirTrunk founder and CEO Robin Khuda.
"SYD2 has all the hallmarks of AirTrunk's state-of-the-art data centers, and we are well-positioned to offer the scale and service that our global customers need now and into the future."
Powered by a dedicated 200MVA 132kV substation, the company says the facility is capable of 100 percent uptime, and claims a power usage effectiveness (PUE) of 1.15.
For cooling, AirTrunk says it is using a solution that optimizes efficiency using real-time weather data analysis and claims to consume 90 percent less water annually than traditional cooling solutions.
"AirTrunk is committed to championing sustainability and our team are constantly innovating to improve data center efficiency," said Damien Spillane, CTO. "We're designing hyperscale data centers, like SYD2, that are significantly more energy-efficient than traditional on-premise data centers, reducing total emissions and the impact on the environment."
In 2020, a consortium led by Macquarie Asia Infrastructure Fund 2 (MAIF2), and including Public Sector Pension Investment Board (PSP Investments), acquired a major stake in AirTrunk.