AirTrunk has finished the fifth and final building at its first Sydney data center campus in Sydney, Australia
The company completed the first phase of the SYD1 campus in 2017. Set on more than seven hectares, the site features 35,000 sqm (337,000 sq ft) of technical data hall area across 42 data halls. According to AirTrunk's site, the fifth building is the final phase of development at the campus.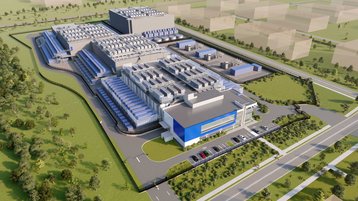 "AirTrunk has successfully completed the fifth building at our 130MW SYD1 data center campus located in Western Sydney, Australia," the company said on LinkedIn this week. "The 40+MW phase was delivered two months ahead of schedule."
Beyond SYD1, the company launched the 110MW SYD2 data center in north Sydney last year, and announced plans for a third campus in Sydney close to the original SYD1 site. At full built-out, AirTrunk will have more than 500MW of capacity in the city.
Including the recently announced SYD3, AirTrunk now has a total of seven data centers in operation or under construction; Outside of Sydney, the company has facilities in Melbourne; Tokyo, Japan; Singapore; and Hong Kong. AirTrunk's data centers will have a combined power capacity of more than a gigawatt when all facilities reach full capacity.
Earlier this year AirTrunk announced the second and final phase of its Singapore facility SGP1 was nearly complete, taking the site's total capacity to more than 78MW. SGP1 was first announced in 2019, with the first phase opening in 2020.