French cloud and telecom operator Adista and Datafarm Energy are partnering for a new data center that will be powered by bio-gas.
The two companies announced plans to commission a data center "supplied exclusively with renewable energies from the recovery of agricultural bio-waste" in 2022.
Adista will operate the 250kW data center while Datafarm will deploy its Datafarm Box product to power the facility. The location of the facility wasn't shared.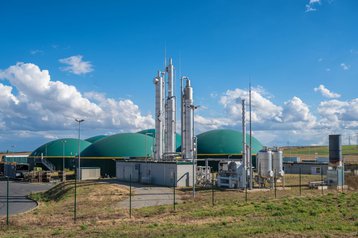 "The control of the environmental impact of the digital has become a major issue of sustainable development. Adista has set itself the strategic priority of becoming the benchmark operator in the market in terms of Social and Environmental Responsibility," said Olivier Grosjeanne, technical director of Adista.
Datafarm's box is installed at the biogas production facility; it turns the gas into energy to power the data center and its cooling equipment, while also capturing the heat generated by the compute infrastructure for re-use on the farm
"As renewable energy, biogas emits very little CO2 of fossil origin and has the advantage of being non-intermittent, that is to say that its production is continuous and controllable (independent of sunlight or of the wind regime) can be perfectly phased with the consumption profiles of the data centers," said Stéphane Petibon, CEO of Datafarm Energy.
The companies said the source of biogas supply to the farmer-methanizer is secured for a period of five to 10 years.
Investment firm Keensight Capital acquired a majority stake in Adista from Equistone in June. 2021 has seen Adista has acquired French hosting firm Waycom in February and telecom operator unyc in September. The company operates 10 data centers across Nancy, Bourges, Saint-Etienne, Paris, and Marseille.
Datafarm Energy currently has three projects in development across the country totaling just under 1.5MW; one the Great East region, one in Normandy, and another in Aquitaine. The company has also partnered with GRDF, operator of the gas distribution network in France and in Europe to explore the roll-out of more projects across its network.
In Australia, LMS Energy plans to install six modular data centers at its biogas facility outside Melbourne. In Ireland, Echelon Data Centres is colocating a biogas generation plant at its County Wicklow campus and will use it for backup power.
A number of companies have experimented with using biogas to power data centers but largely remain a novelty in the industry. Microsoft has trialed methane-powered data centers in the past, as has UK provider Infinity. 365 Main had plans but shelved them after customers expressed availability concerns.