AdaniConneX has secured $213 million in debt financing to fund its data center build-out in India.
The company, a 50:50 JV between Adani Enterprises Ltd and EdgeConneX, this week announced it has executed a $213 million senior debt facility with participation from international banks to finance its under-construction data center portfolio.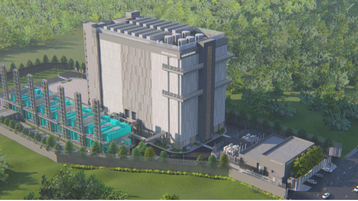 The companies said the tied-up facility will finance two data centers totaling 67MW; the Chennai 1 campus in Tamil Nadu with a Phase 1 capacity of 17MW, and the 50MW Noida campus in Uttar Pradesh.
ING Bank, Mizuho Bank, MUFG Bank, Natixis, Standard Chartered Bank, and Sumitomo Mitsui Banking Corporation have committed to the facility. Reports that AdaniConneX was in discussions with banks about potential loans first surfaced in April.
"The construction facility is the key ingredient of AdaniConneX's capital management plan, providing the pathway for us to deliver on-time a reliable and sustainable data center capacity of 1GW by 2030," said Jeyakumar Janakaraj, CEO of AdaniConneX. "The achievement marks a significant milestone in developing this transformative initiative, which is set to revolutionize the digital infrastructure in India."
The joint venture was first announced in February 2021, with Indian conglomerate Adani and US data center firm EdgeConneX aiming to deliver 1GW of hyperscale data center capacity throughout India.
"We are committed to delivering a pan-India data center platform," said Anil Sardana, director of AdaniConneX. "The facility shall encourage overall implementation philosophy to power the digital infrastructure by delivering clean and long-term renewable energy solutions aiming toward a carbon-neutral footprint. EdgeConneX's extensive data center expertise and industry-leading technology solutions combined with Adani's expertise in full-stack energy management, renewable power, and project development are set to transform the sector."
AdaniConneX launched a data center in Chennai in October 2022, with the first phase offering 17MW. At full build-out, the campus will reach 33MW. The company is also working on facilities in Noida - which recently had a small fire at the construction site - Vizag, Hyderabad, Pune, and Mumbai.
"We welcome the banking partners through their participation with AdaniConneX. We are excited about our overall journey with Adani in India that has started with a robust implementation plan and a tremendous customer pipeline that will quickly establish AdaniConneX as the leading digital infrastructure platform for all of India. Leveraging Adani's proven infrastructure experience and EdgeConneX data center record, we are keen to play an integral and pivotal role - bringing in a digital revolution," said Edmund Wilson, director – AdaniConneX, and chief operating officer and co-founder of EdgeConneX.
EQT-backed EdgeConneX last year secured more than $1 billion in sustainability-linked financing. Adani has previously said it aims to spin out and list AdaniConneX before 2028.