A new data center park is being proposed in Virginia's Prince William County.
First reported by the Prince William Times, a developer has filed plans for an 82-acre data center campus on the site of the Hillwood Camping Park in Gainesville.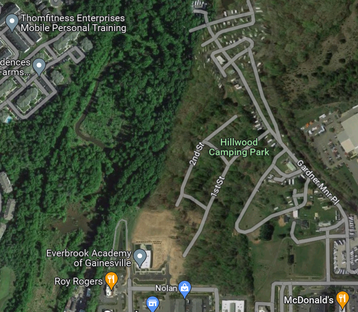 The 'Gardner Property' development could see up to 1.8 million sq ft of data centers developed on the site – currently made up of 14 parcels between Routes 29 and 55 at the intersection of Nolan Drive, Gardner Manor Place, and McGraws Corner Drive – as well as an on-site substation. The number of buildings and planned power capacity of the site aren't clear.
The Hillwood property is currently a residential recreational vehicle (RV) community, with some 140 trailers on-site across 15 acres. InsideNoVa reports most of the properties are currently owned by a variety of private companies, individuals, and land trusts, mostly associated with the Charles V. Gardner Estate.
The park is reportedly under contract to Delaware Land LLC, owned by landowner and CEO of JK Moving Services, Chuck Kuhn. Kuhn is also affiliated with JK Land Holdings LLC.
A firm affiliated with Kuhn has already filed plans with county officials seeking to rezone the land parcels from agricultural, general business, and residential to light industrial use.
The developer is also trying to add the land to the county's Data Center Opportunity Zone Overlay District to speed up the permitting process.
The development is seeking a waiver to allow building heights increased from 60ft to 80ft, and a proposed floor-to-area ratio (FAR) waiver from .5 to 1. PW County Staff have labeled the FAR request "problematic."
The camping park is close to the planned Village Place Technology Park and the Kuhn-owned Gainesville Business Park.
JK Land Holdings is involved in a number of data center projects in Manassas and Gainesville in Prince William County, and others in Arcola/Stone Ridge and Leesburg in neighboring Loudoun County.
Wilderness Crossing gets locals cross - is AWS involved?
Elsewhere in Virginia, a proposed residential & industrial development in Orange County is facing a lawsuit from residents and opposition groups. While not confirmed at this point, the project could include a significant data center element.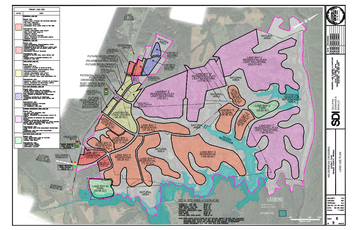 The Wilderness Crossing proposal, from developer KEG Associates III and recently approved by Virginia's Orange County, would see 2,600 acres rezoned to allow for up to 5,000 residential units and more than 800 acres of commercial and industrial development, as much as 750 acres of which could be data centers and distribution warehouses. The development would continue over a 30-year period.
Orange County is located immediately south of Culpeper County and west of Fredericksburg and is not currently a major hub for data centers.
Plaintiffs in the suit against the project include the American Battlefield Trust, Friends of Wilderness Battlefield, Central Virginia Battlefields Trust, Mark W. Nowacki and Cheryle M. Nowacki, and Robert J. Foster, a trustee of the Robert J. and Joanne S. Foster living trust.
The Piedmont Environmental Council said the lawsuit cites several violations of state constitutional and statutory law and county zoning ordinance, including procedural errors, lack of required submittals and findings, and failure to comply with the Virginia Freedom of Information Act, among other errors.
"We commend and wholeheartedly support our Wilderness Battlefield Coalition partners in the legal challenge, and stand ready to share our expertise and provide assistance," said Piedmont Environmental Council president Chris Miller. "PEC staff has developed extensive knowledge of the rezoning and its impacts from its engagement as a part of the community, and will be following and participating in any next steps, such as transmission line routing and substation siting discussions with Dominion Energy and Rappahannock Electric Cooperative and/or site remediation discussions with the applicant and the Virginia Department of Environmental Quality."
The American Battlefield Trust said the plan voted on by the Board of Supervisors "differed significantly" from what was previously discussed. Changes include the lifting of a cap on the amount of square footage proffered for data center and warehouse distribution development — previously limited to five million square feet and increased to 30 million.
The area was previously used as a gold mine and is close to Wilderness Battlefield, a Civil War site where Union and Confederate soldiers fought in 1864.
County documents subject to FOIA suggest data centers could be coming to the development after interest was shown from an operator that, from the description, is likely to be Amazon:
"[Orange County] staff has been approached by VEDP [Virginia Economic Development Partnership] and a major player in the retail online/data center business about purchasing several thousand acres of the King property for a data center."
Later emails in the FOIA suggest a number of Wilderness Crossing land bays were changed to show a technology campus instead of a residential area, potentially to accommodate this developer. The email chain also refers to "Project Tricycle."