This year's DCD>Awards event raised more than £43,000 for the charity Chain of Hope, taking the total raised in the last two years to nearly £100,000.
The charity, founded in 1966 by pioneering heart surgeon Sir Magdi Yacoub, provides specialist surgery by volunteer surgeons and medial teams, to children around the world, including refugees.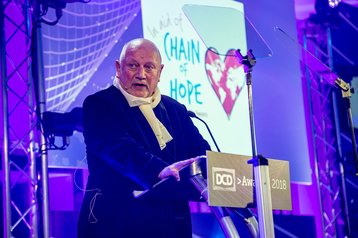 Thank you
During the event, the Chain of Hope ambassador, actor, playwright and director Steven Berkoff, thanked DCD for its continued support in the charity's work of "mending little hearts."
The event raised a total of £43,614.63, through an auction and raffle. "This will enable us to provide life-saving heart treatment to so many little children in need," said a Chain of Hope spokesperson. "We were all thoroughly impressed by the evening and were touched by the generosity of the guests."